Everyone has pulled up well and ready to go again: Josh Hazlewood
Updated - Mar 23, 2017 2:08 pm
50 Views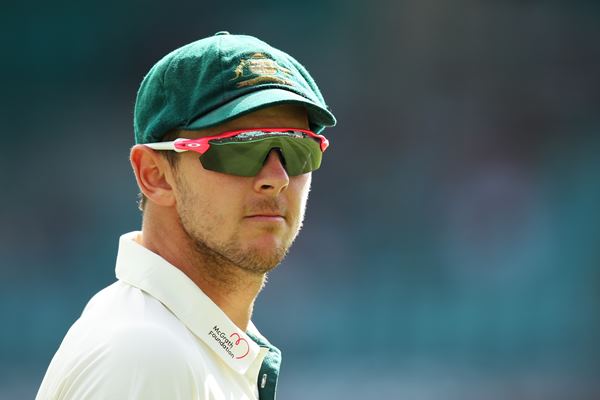 Australian quick Josh Hazlewood is keen to see a wicket that produces a result in the final Test of the Border-Gavaskar Trophy. Having played on the Dharamsala pitch during the World T20 last year, Hazlewood remembers its sluggish behavior, which led to the Black Caps coming out victorious against his side in a Super 10 match.
As this game is a must win for India if they are to regain the Border-Gavaskar Trophy, Hazlewood is quite certain that the HPCA Stadium will not offer a batting-friendly track, as was seen in Ranchi.
"I think the wicket will determine a result," he said. "They need to win so the wicket they serve up will bring a result into the game. The pressure is firmly on them. We can draw it but we obviously want to win it, win 2-1 and win a series in India, which rarely happens," the paceman said.
Dharamsala has the reputation of producing a pitch for the pacers considering the high altitude and weather conditions the faster bowlers will expect better assistance overall.
"I'd love to see it fast and bouncy. But that's what they said in Pune as well and we didn't quite get that. I think the way they saw Pat Cummins bowl the other day, they don't really want it any faster than Ranchi, I wouldn't think. We'd love it to be that way, would feel a bit more like home, but I don't think we'll get that," Hazlewood added.
Fitness has been a testing factor this season for the visitors, and due credit goes to Hazlewood for bearing the physical toll that comes from fast bowling, as well as fielding in hot conditions during Pujara's marathon innings.
"You're probably going to bowl that many overs in a Test match, it's just the fact we did it one go," he said. "It was a long time out in the field but that's what you prepare for and that's what a Test match brings. Everyone has pulled up well and ready to go again," the fast bowler from New South Wales said.
Australia suffered a big blow when spearhead Mitchell Starc was ruled out of the remainder of the series following an injury he picked up in Bengaluru. Nevertheless, Pat Cummins, who was not initially in the squad for this series, was called up to fill Starc's spot. The pacer made a considerable impact on his return to Test cricket, picking up 4 crucial wickets in India's first innings in Ranchi.
"He's going to be great if he can stay on the park and join the [fast bowlers'] cartel and have a good partnership moving forward," Hazlewood said about Cummins. You never want to see guys in the sidelines injured, and Pat's obviously been playing for a majority part of this year in one-day cricket and T20s. But it's great to see him back in the Test format. He obviously had a great hit-out in that last Test and bowled fast for the whole duration, so it's amazing what he's going to do back in Australia and on bouncy wickets in South Africa and places like that."
If the Dharamshala pitch does offer some pace and bounce, Hazlewood and Cummins will look to hunt in pairs and pick up early wickets to put the pressure on the Indian batting line-up.
– Written by Subhankar Bhattacharya