Excerpts from Rajdeep Sardesai's Democracy XI exposing MS Dhoni-Srini relationship
When it comes to financial dealings, MS Dhoni can be ruthless: Jeet Banerjee
Updated - Oct 25, 2017 6:29 pm
4.6K Views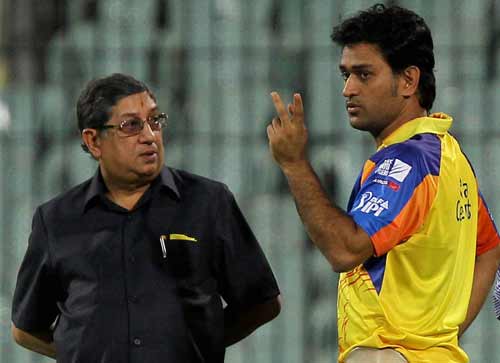 Follow us on Google News
One of the most talked about relationship in Indian Cricket is that of former Indian captain MS Dhoni and former BCCI President N Srinivasan. At one point in time, the duo enjoyed ultimate supremacy. Rajdeep Sardesai's book Democracy reveals that there was various occasion the duo arm twisted laws for their own benefits.
The association of MSD with N Srinivasan can be traced back to the auction of the 2008 IPL, where the former was chosen as the marquee player of the team. Also, MS was made the Vice President of N Srinivasan's company India Cements and also had a substantial stake in the company. Further, Srini was the Chairman of the ICC as well as BCCI while MS Dhoni was the captain of the Indian team.
"I really don't care what people say, I found Srinivasan as someone who was always there to help cricketers," claimed MS Dhoni when asked about his close ties with Srini.
CSK has been marred with various controversies but Dhoni's loyalty to the former BCCI chief is revealing. It suggests a strong personality who is not swayed easily by criticism. But it also exposes Dhoni to the charge that under the outward image of rustic innocence lurks a sharp political mind.
"Make no mistake, Dhoni knows which way the wind is blowing, he knows how to manoeuvre his way through the BCCI's corridors of power when required," commented a BCCI official.
"The people of Chennai are serious cricket followers. Dhoni embraced our cricket culture so readily he really was the fulcrum of our team's success. We gifted him a bike when he joined CSK and he would take it for a spin, stop at traffic lights and just smile at passers-by," claimed the CSK lynchpin.
However, Lalit Modi confessed that during his time as the IPL commissioner, there have been several instances of Srini arm twisting IPL rules to retain his icon player in the 2010 edition
"It was illegal since Icon Player status was meant to be only for the first three years of the IPL and yet Srinivasan was allowed to get away with it," disclosed Lalit Modi.
The most shocking case of favouritism was during 2012 when N Srinivasan was the Board President. India lost the overseas series against England by a margin of 5-0 and also lost the series down under comprehensively. The selection committee headed by Mohinder Amarnath intended MS Dhoni to step down as the captain.
Srini vetoed decision to drop Dhoni
"We were told that the board president and not the selectors will decide who the India captain is," claimed Amarnath. 'Yes, it is true that I vetoed the decision to drop Dhoni as captain. How can you drop someone as captain within a year of his lifting the World Cup?What you call favouritism I say is my respect for a top class cricketer's achievements," replied Srinivasan in defence of his move to reinstate Dhoni as the captain back in 2012.
According to the revelations made by Democracy XI, MS Dhoni is also known to be a shrewd businessman who deals in ruthless negotiations financially. A Kolkata-based sports marketing consultant Jeet Banerjee, who once managed the cricketer's contracts and with whom Dhoni fought a messy court battle, argues that the former India captain is hard-nosed in contractual negotiations.
"Don't get taken in by his soft-spoken nature. When it comes to financial dealings, MS Dhoni can be ruthless. He even put the Ranchi police on to me and my family when we fell out," claimed Banerjee.
Follow us on Telegram