Fans hail MS Dhoni- The Finisher – after Article 370 scrapping
The state of Jammu and Kashmir has been divided into a couple of union territories- J&K and Ladakh.
Updated - Sep 23, 2019 3:50 pm
15.9K Views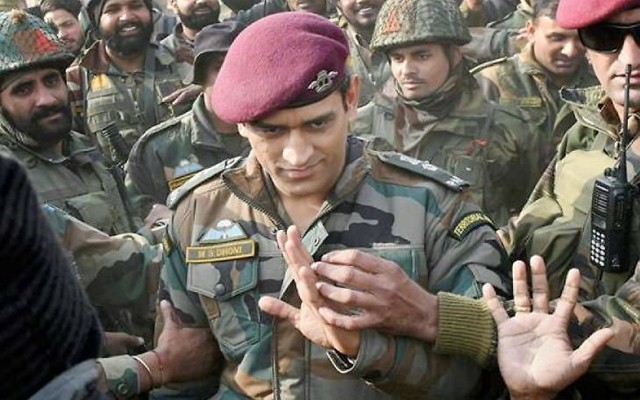 Follow us on Telegram
August 5, 2019, turned out to be a historic day in the history of the Indian constitution. The government, led by Prime Minister Narendra Modi, revoked Article 370, which provided special status to Jammu and Kashmir. From 1949 onwards, it was exempted from most of the laws, followed by the other states in the country. It even had a separate flag and not the Indian tri-colour.
However, things are all set to take a turn. The state of Jammu and Kashmir has been divided into a couple of union territories- J&K and Ladakh. Amit Shah, the Union Home Minister, put forth the developments in the Rajya Sabha. The Honourable Prime Minister will address the nation on the issue in August. The move by the Indian government was greeted with praises from the country.
MS Dhoni finishes it in style yet again
In the meantime, fans of MS Dhoni are excited to the fullest. The supporters have managed to somehow draw a connection between the legendary Indian cricketer and the epic move on Jammu and Kashmir. Dhoni is presently serving the Indian Army in the paramilitary regiment. The 38-year-old is in the Victor Force and is working with the 106 Territorial Army Battalion (Para).
After the completion of the 2019 World Cup, Dhoni asked for a two-month break in order to serve the nation. He is not a part of the T20I and ODI squads for India's tour of the West Indies and USA. When he was entrusted to join the Battalion, there were concerns over his security in Kashmir, where he is posted. However, the Army showed faith in him saying that he can do his job with authority.
Dhoni has started his journey on July 31 and his task will end on August 15, 2019. He was also seen playing volleyball with his army members. In November 2011, the Indian Territorial Army honoured the Indian World Cup-winning captain Dhoni with Lieutenant Colonel. On the cricket field, Dhoni is known amongst the greatest finishers India ever has had.
He has a calm demeanour and never shows nervousness in the situations of crisis. The fans believe the it was Dhoni, who has played the role of a finisher one more time. The same is for the reason that once Dhoni went to Kashmir, the abolition of Article 370 came to the fore.
Here's how the fans reacted:
370 gone
🖐️🖐️🖐️🖐️🖐️
Jb sarhad pr ho @msdhoni to unhoni b ho Jaye honi
#Captaincool
L❤️VE again in Kashmir 🖤🖤🖤💙💙💚💚💚💋

— Jitendra Singh&daughters (@Jitendr70794828) August 6, 2019
We propose ro send @msdhoni to #POK & #AksaiChin after his terrific #HeliCopterParaTrouper shot in Parts of #JammuKashmir. @msdhoni just went for stroll and 370& 35A removed.

He is lucky mascot for India. @PMOIndia @HMOIndia pls consider our request.

— D R Thakker 🇮🇳 (@drthakker9) August 6, 2019
@msdhoni in Kashmir,370 Out 😉

What A Captain#historical #Article370 #JammuAndKashmir

— Aryan Mahi (@aaryu95) August 6, 2019
@msdhoni Sir Aap Kashmir kya Gaye 370 ka worldcup Jeet laye !!

— काळेपाटील (@Kalepatil_11) August 6, 2019
Once again u proove that u r the World's best finisher ….As all Indian are seeing on 35 A & 370 …..Jai Ho pic.twitter.com/YAsmY4abP8

— Vinay Pratap Singh (@VinayPr53299529) August 6, 2019
What a coincidence…..
MS Dhoni कशमीर में हैं
अनहोनी को करे होनी
Amit Shah erase article 370 and 35A from article book😂😂😂
काश Dhoni पहले ही कशमीर चलें जाते 😂🤣😂😂

— Ajay (@Ajay009900) August 6, 2019
Dhoni ji border pe jate hi 370 uda diya.

— someshwar jannu (@somjannu) August 6, 2019
My respect for @msdhoni has grown 10 fold,He proved to be a master a executor and finisher once gain.
It is he who planned, executed and delivered scraping of article 370 & 35A.#masterstrategistDHONI#LieutenantColonelDhoni #370gaya @MSDhonifansclub @AmitShahOffice @PMOIndia

— Satyanarayan Negi (@narayan_1991) August 6, 2019
MS Dhoni is in Kashmir. Whether he played the Article 370 match between India and Pakistan doesn't matter. But @narendramodi finished the match by abolishing 370.
MS Dhoni, the finisher.

— Bala S Musunoori (@BalaSMusunoori) August 5, 2019
Dhoni finishing off in style in Jammu & Kashmir historic day for India #Article370 pic.twitter.com/ep5TijOpDb

— 🇮🇳United Memes of India 🇮🇳 (@allindiamemers) August 5, 2019
Follow us on Google News