Fans lash out at Ambati Rayudu after his twin failures in ODI series in Australia
Rayudu was caught at deep mid-wicket by Marcus Stoinis.
Updated - Jan 15, 2019 6:19 pm
2.9K Views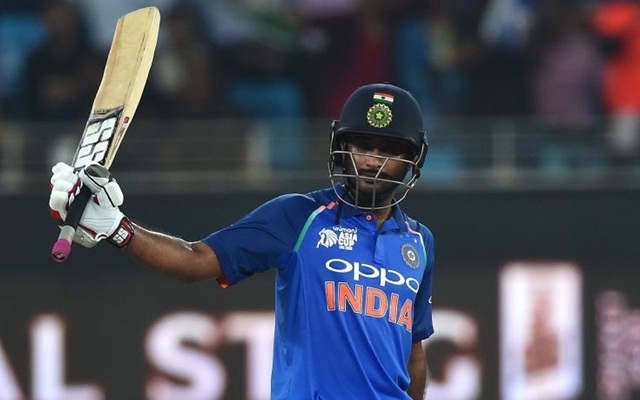 For Ambati Rayudu, 2018 was the year of a comeback and he gradually cemented his position at No.4. However, the 33-year-old batsman failed to impress in the first two ODIs against Australia and the swords were out seeking his replacement ahead of the World Cup in May-July. Rayudu, who got out for a duck in the first game in Sydney, scored 24 off 36 balls in the second match in Adelaide before getting caught at deep mid-wicket by Marcus Stoinis off the bowling of Glenn Maxwell. His departure broke the 59-run partnership with captain Virat Kohli and pegged India back in a steep chase of 299 runs.
Rayudu did not play a single game since his 100 against Windies 
Rayudu had a decent ODI series at home against the Windies in October-November and hit a hundred last time he went out to bat for India in a 50-over game. However, the next time he went out to bat was only on January 12 which meant the batsman did not play a single competitive game in two-and-half months before heading to Australia. He fell in the very second ball he faced at the Sydney Cricket Ground last Saturday. Veteran sports journalist Gautam Bhattacharya asked why wasn't Rayudu forced to play domestic cricket before he boarded the flight to Australia.
Angry reactions started pouring in after Rayudu's twin shows of disappointment and some fans even felt that the man doesn't deserve a place in the squad for the ICC World Cup; some even said that the 33-year-old batsman did not belong to the international stage either. There were also calls to replace Rayudu with youngster Shubman Gill, who has been called up for the New Zealand tour after the suspension of Hardik Pandya and KL Rahul. Rayudu has an impressive average of almost 50 in 46 ODIs that he has played since making debut in 2013 and has scored three hundreds in the format so far.
India had a far better start to their chase in the second game in Adelaide after Australia finished their innings at 298 for 9, thanks to Shaun Marsh's 131. Kohli hit 104 during the chase – his 39th ton in the 50-over format – to take India close to the target and after his dismissal, it was left to Mahendra Singh Dhoni and the rest to guide India home.
Here are some of the reactions on Twitter
#AUSvsIND Ambati Rayudu is exceptionally lucky to be still there.He clearly gives the impression of someone who hasn't had match practice since the last few weeks.Why wasn't he forced to play domestic cricket ??

— Gautam Bhattacharya (@gbsaltlake) January 15, 2019
Ithink Ambati Rayudu was born after 10 months in the womb .. Thats is the only reasoning I can figure out for his timing being soooo shit and late .. #WhyIsntHeOnTheBench #WaterBouyCannotPlayCricket

— निमित कालरा (@nimitkalra) January 15, 2019
This Ambati Rayudu is seriously a very shit player. I remember in 2015 ,before WC, this shit piece was given chances day after day and he miserably failed. And the same procedure goes on here. He is only good in IPL and subcontinent. #AUSvsIND

— We are in the End Game Now (@HeyItsAnshhere) January 15, 2019
@BCCI Ambati Rayudu should be replaced by Shubman Gill….Talented Guy👏👏👏

— Rahul Neogi (@rahulneogi99) January 15, 2019
Ambati Rayudu looking very scratchy during his batting and poor shot selection to get out. The retirement from first class cricket was not a great decision. His world cup chances is a question mark. #sportstakofficial #AakashVani #sanjaymanjerkar #cricbuzz

— Pankajsinha2706 (@Pankajsinha2701) January 15, 2019
@RayuduAmbati was looking uncomfortable in the crease and was trying so many shots from last 5 Overs.#INDvAUS #AmbatiRayudu #AUSvIND

— Aditya Saha (@adityakumar480) January 15, 2019
#ambatirayudu worked hard to get out. #AUSvIND #AUSvIND #Sony

— Esharul Haque 🔵 (@Esharul_haque) January 15, 2019
You don't survive suicide attempts that many times #AmbatiRayudu#AUSvIND

— Alankrit Srivastava (@alan_srivastava) January 15, 2019
It seems Rayudu is playing with a bamboo stick today. All edges and mistimed shots.#ambatirayudu #TeamIndia #AUSvIND #AUSvsIND #INDvsAUS #INDvAUS #batting

— Cricket Now 24/7 (@cricketnow247) January 15, 2019