Fans react after they hear pre-recorded cheers in the MI-CSK season opener
In the absence of crowd, the BCCI has left no stone unturned to provide fans with an enthralling experience.
Updated - Sep 19, 2020 8:41 pm
10K Views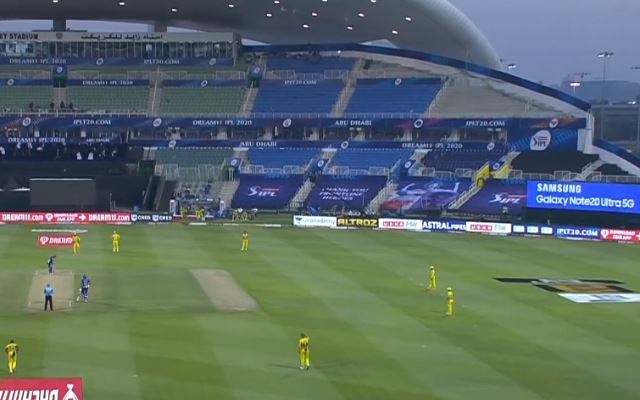 The world finally witnessed the start of much-awaited IPL 2020 when defending champions Mumbai Indians and Chennai Super Kings braced the field for the season-opener at Abu Dhabi.
Chennai Super Kings, after winning the toss, elected to bowl first and MI's opening duo of Rohit Sharma-Quinton de Kock paved their way into the middle. The tournament is being played without crowds due to COVID-19 pandemic. However, pre-recorded crowd cheers were woven into the broadcast to notch up the experience of fans.
CSK's Deepak Chahar, who was one of the CSK members who had tested positive for coronavirus, opened with the new ball while England all-rounder shared it from the other end. To mark the start of IPL 2020, Rohit nonchalantly drove the ball to the boundary to register a four on the first delivery.
Virtual fans are also present in the stadium
Before the IPL 2020 action unfolded in the UAE, the BCCI had already planned to maintain the liveliness of the match. A system has been installed in the stadium which would produce sound of a 'roar' of the crowd after each dismissal or boundary.
In the absence of crowd, the BCCI has left no stone unturned to provide fans with an enthralling experience. Owing to coronavirus pandemic, the teams have been residing in a bio-secure bubble. They've also been following several measures to curb the risk of the virus.
Meanwhile, MI have registered 87/2 in the first ten overs. After the departure of Rohit (12) and Quinton de Kock (33), Suryakumar Yadav and Saurabh Tiwary are currently at the crease. With four titles under their belt, the Mumbai franchise will be hoping to add another IPL trophy under their belt. CSK, meanwhile, will be aiming to again deliver a consistent performance in the league. CSK are the only IPL team to qualify for the playoff stage in each edition of their appearance in the league.
The Indian board has also made arrangements for fans to be virtually present during the course of the match. The T20 extravaganza is set to continue until November 10th, with the matches being played in three cities– Dubai, Sharjah, and Abu Dhabi.
Here's how fans reacted:
Watching IPL. There's crowd sound in the background. Ghosts in the stadium?? Eerie.

— Anil Thakraney (@anilthakraney) September 19, 2020
Watching IPL … it feels like EA sports …. Crowd sound pata nhi kahan se aa raha hai 🤔🤔🤔🤔🤔🤔 #IPL2020

— Papa Bose (@i_PapaBose) September 19, 2020
Dei @IPL please get that artificial crowd sound removed . It is annoying. #IPL2020

— శ్రీనివాస్ రాచకొండ (@its_srinu) September 19, 2020
@IPL @Dream11IPLT20
Can we have some sound of drums, trumpet, crowd !!!
Watching on TV seems so boring.
Where are the cheerleaders too?@BCCI

— Sunil Khatri (@snkhatris) September 19, 2020
@IPL fake crowd sound is irritating… at least real people knows when they need to shout….

— Amit Gupta (@amit_gupta2) September 19, 2020
@IPL kicks of with fake crowd sound. Why @DisneyPlusHS ? pic.twitter.com/kHXgwZt6Re

— Gautam Sikka, MD (@GautamSikka) September 19, 2020
Fake crowd cheers in IPL , no need that fake sound @IPL @StarSportsIndia

— ANUP KUMAR PAUL (@1989anup) September 19, 2020
Now crowd sound seems funny…because they couldn't code the crowd sound for 4,6 and wickets….😂😂😂😂#IPL2020Updates #IPL #IPLFantasy #MIvCSK #CSKvsMI

— Adesh Kumar (@adeshskumar) September 19, 2020
@IPL pre recorded crowd sound irritating and irrelevant sometime. Pls stop this

— Aashish Bhatt (@bhatt_ashis) September 19, 2020
Now crowd sound seems funny…because they couldn't code the crown sound for 4,6 and wickets….😂😂😂😂#IPL2020Updates #IPL #IPLFantasy #MIvCSK #CSKvsMI

— Adesh Kumar (@adeshskumar) September 19, 2020
Is that Crowd noise or Sound effect?? Cuz i can hear the crowd noise.#IPL #Dream11IPL2020 #CSKvsMI

— 3dxchetan ko Drugs do (@3dxchetan) September 19, 2020
The inserted crowd 'noise' is so damn weird and random. But I prefer it to the empty stadium sound. Hope IPL has a few different noise variations lest it becomes monotonous #MIvsCSK

— Arjun Swami (@arjunswami) September 19, 2020
Please do not try something which is not.
Don't use artificial crowd sound be realistic.#IPL2020 #IPLinUAE

— Depak tiwari (@FlybyMind) September 19, 2020
No crowd but sound of crowd coming thats mean in all matches its comes by you guys

बिना दर्शकों के भी अच्छी तालियां बटोरी जा रही है टीवी चैनलों पर!

— robin banthia (@banthiarobin) September 19, 2020