Fans remind the BCCI of the heroes of World T20 2007 win the board forgot
It attracted the board a lot of flak on their official Facebook page.
Updated - Sep 24, 2017 5:57 pm
240 Views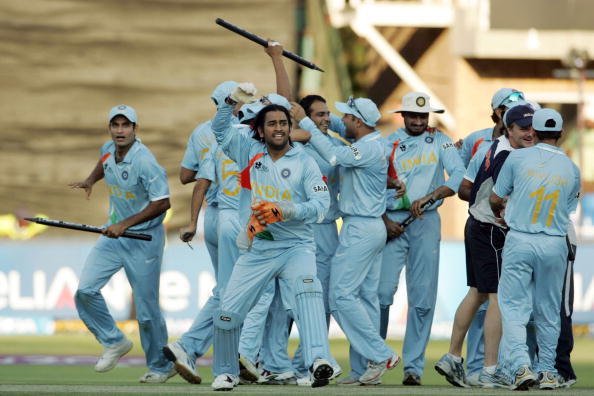 The Board of Control for Cricket in India (BCCI) is in a celebratory mood today as 24th September is the historic day when the Men in Blue won the inaugural edition of the World T20 back in 2007. They posted the video of the celebration on their official Facebook page to share the joy with the fans.
But there was something that caught the attention of a lot of followers and drew a lot of flak for the BCCI as they mentioned all the players who were a part of the team from the likes of Rohit Sharma, Gautam Gambhir to RP Singh and Piyush Chawla but missed out on two important members of the team Joginder Sharma and S Sreesanth.
Though the social media handlers of the Indian board also missed out on mentioning Yusuf Pathan and Ajit Agarkar among the players it wasn't quite highlighted as fans liked to focus more on Sreesanth.
BCCI's video caption read – "September 24, 2007 – #TeamIndia was crowned World T20 champions #ThisDayThatYear with – Rohit Sharma, Gautam Gambhir, Virender Sehwag, Dinesh Karthik, Robin Uthappa, Yuvraj Singh, Harbhajan Singh, MS Dhoni, Irfan Pathan, RP Singh, Piyush Chawla"
It was Joginder who was handed over the responsibility of bowling the all-important final over by skipper MS Dhoni and was the one who got rid of Pakistani captain Misbah-ul-Haq who otherwise threatened to take the game away from the Indian team. Jogi didn't crumble under pressure and bowled a slower delivery outside the off-stump that gave Misbah nothing and he had to generate all the power to get the ball over the infield.
He tried to scoop it but managed to get just enough elevation for the ball to reach fine leg where Sreesanth was placed for something like that. He fumbled but held the ball and India won the World T20 by 5 runs.
The two individuals who were involved in the winning moment were missing from the mentions and the Indian fans were furious at the BCCI. While Joginder faded into the oblivion after the tournament Sreesanth has been at the other end of the board's sword as he was banned for his involvement in the IPL spot-fixing scandal, he was acquitted of the charges by a Delhi court but the BCCI has refused to lift the life ban imposed on him.
Here are some of the comments posted on Facebook: