Fans slam Ravi Shastri after he snubs Sourav Ganguly in his tweet congratulating organisers of IPL 2020
The fans were quick to react to Shastri's tweet as they questioned him for the tweet.
Updated - Nov 11, 2020 10:46 am
35.5K Views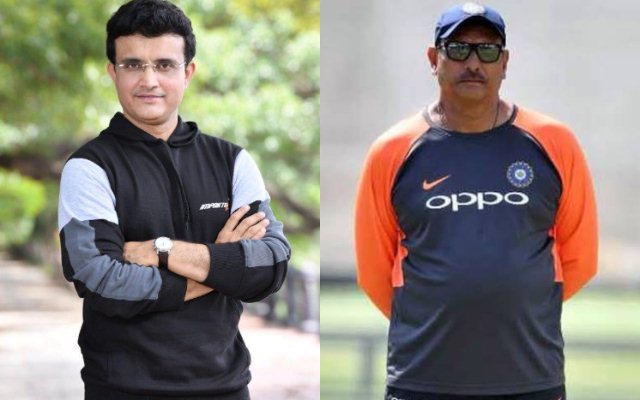 India head coach Ravi Shastri is facing the heat on social media after surprisingly snubbing BCCI president Sourav Ganguly while congratulating the members of the board for successfully conducting the just-concluded edition of IPL 2020. The thirteenth edition of the tournament came to an end on Tuesday with the final between Mumbai Indians and Delhi Capitals.
Mumbai Indians beat Delhi Capitals by five wickets to clinch their fifth IPL title. In a contest that didn't really live up to the expectations, the defending champions beat the first-time finalists with ease. In the process, Mumbai Indians also became just the second team after three-time champions Chennai Super Kings to retain the title.
Batting first, Delhi Capitals recovered from 22 for 3 to post a competitive total of 156 for 7. Skipper Shreyas Iyer and Rishabh Pant rescued their side by scoring fighting fifties. Iyer remained unbeaten on 65 while Pant scored 56. In reply, Mumbai Indians crossed the finishing line in the 19th over thanks to their skipper Rohit Sharma's fine knock of 68.
Ravi Shastri faces heat
While the cricketing world was busy bidding adieu to the IPL, Ravi Shastri was facing the heat on social media for his latest tweet. After the end of the competition, the cricketing fraternity congratulated the BCCI  and the IPL governing council for successfully organising the tournament in the UAE in the wake of the novel coronavirus pandemic.
But Shastri's tweet caught everyone's attention. The former India allrounder took to social media to thank the organisers, including the medical team, for successfully hosting the IPL 2020 in UAE. But while he mentioned the top brass of the board, he surprisingly didn't mention Sourav Ganguly in his tweet.
Here is the tweet from Ravi Shastri:
Take a BOW @JayShah, Brijesh Patel, @hemangamin and the medical staff of the @BCCI for pulling off the impossible and making it a Dream @IPL #IPL2020 #IPLfinal pic.twitter.com/5rL6oqOLmC

— Ravi Shastri (@RaviShastriOfc) November 10, 2020
And his tweet was enough to create another controversy as the fans questioned him for snubbing Ganguly. It should be remembered that Ganguly and Shastri were involved in a bitter war of words after the latter was not recommended as India coach in 2016 by the Cricket Advisory Committee. Ganguly was one of the three members of that committee. The fans were quick to react to Shastri's tweet as they questioned him for the tweet.
Here are some of the reactions from the fans:
Feel sorry for this self centred man. no matter whether you mention him or not..He was, he is and he shall be the captain of INDIAN CRICKET. DADA @SGanguly99 #SouravGanguly #IPLfinal #IPL https://t.co/j25bUMeVGA

— Adrish Bhattacharya (@AdrishBhattach4) November 11, 2020
Dear @RaviShastriOfc please note @SGanguly99 is your boss also and can sack you whenever he wants. But he is not a bad human like you .

You are going to be a senior citizen of country, please learn some manners in this age else your next generation also will be bustard like you! https://t.co/N3pnQe8KWC

— Arnab Ganguly (@ArnabGanguly) November 11, 2020
Most importantly you forgot to take name of @SGanguly99 who is your boss.I hope it's deliberately done.

— Shivendu Rajput (@ShivenduAnand6) November 10, 2020
— 🇨🇦🇦🇪🇮🇳 Om Lal Mehta (@omlalmehta) November 10, 2020
"Ganguly " pic.twitter.com/oIROLiLG7x

— Silly Point (@FarziCricketer) November 10, 2020
Some people knows to whom and where the credit should goes to. And in this case @ShaneWarne ranked much higher than u as a cricketer and also as a coach Mr. Shastri @RaviShastriOfc ! Better u plan for a holiday @ Vegas .. pic.twitter.com/oLMm04Byaa

— Kallol Chakraborty (@kcseawaves) November 10, 2020
I believe @SGanguly99 is one who behind all of such success – Mr Shadtri never believe of Sourav's success right through his career , but he's is a successful sports personality

— Nilanjan Roy (@roynilanjan) November 10, 2020
Thank you dada @SGanguly99 for all the happiness for last few months in this hard times. @BCCI @IPL #IPL2020 https://t.co/SlyOKC26ur

— Chandan S Rathore (@ImCSRathore) November 11, 2020
hhmmm interestingly skipped @SGanguly99 https://t.co/oIUNHa3CeM

— Gau Force 🇮🇳 (@gau_dab) November 11, 2020
Where is @SGanguly99 ?? Without him no BCCI now. You don't deserve the coaching seat for India, based on your political connection somehow made it to that post. https://t.co/m4KIUR6W24

— Dinesh Kumar V K (@anundinesh) November 10, 2020