Fans slam Virat Kohli for not wishing Anil Kumble on birthday
Kumble turned 47 on Tuesday and while there were many who paid the legendary leg-spinner glowing tributes and wished him a happy birthday
Updated - Oct 19, 2017 3:21 pm
601 Views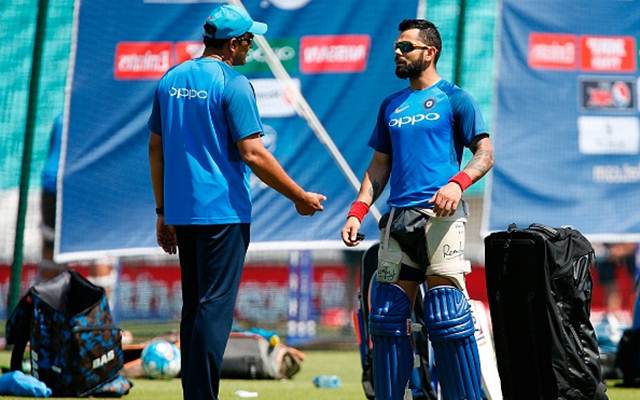 Anil Kumble was one such cricketer who spent his professional career without a controversy laced with grace and glory. However, as bizarre as it may sound, his time as the head coach, however, was a story that media and news portals spent every moment tracking.
Although what really happened still has an element of uncertainty around it, Kumble's unceremoniously ouster as the coach of the Indian cricket team, still has it's after effects. The Kohli-Kumble saga was disgraceful one majorly because of how it was handled by authorities. Their "untenable" relationship showed when Virat Kohli was among those who did not wish him on his birthday.
Kumble turned 47 on Tuesday and while there were many who paid the legendary leg-spinner glowing tributes and wished him a happy birthday, the Board of Control for Cricket in India (BCCI) committed a blunder.
The Indian cricket board posted a tweet from its official Twitter handle where it looked like no effort or thought had been put into it. The wish was simply termed Kumble a 'former bowler'. After irate fans slammed the BCCI for not showing enough respect to the decorated cricketer, they deleted the tweet and replaced it with a more appropriate one.
What really irritated the fans though was the fact that Indian captain Virat Kohli didn't wish Kumble on his special day. This came as a surprise to fans, especially since Kohli was active on Twitter on Tuesday when he shared a picture of him with singer Arijit Singh.
The duo's fallout is known to all, but fans weren't pleased with the fact that almost everyone wished Kumble but Kohli took it too far by not extending his wishes. While it is possible that the wishes were conveyed in a personal manner, but such instances are not easily let go off by Twitterati.
Here are some of their tweets:
Kohli has shown his true colors by not wishing Kumble on his birthday

— Xavier (@Xavierchic) October 18, 2017
Seems at the end Kohli didn't wish Anil Kumble on his birthday. What ego!

— cricketSaM (@indoriitweeter) October 18, 2017
everyone wishing Kumble happy b'day except Kohli ?

— Kaptaan Kohli (@siedry_) October 17, 2017
Virat Kohli has the time to play football, appear on tv show. But no time to wish Anil Kumble on his birthday. What a shame!

— Aditya Kulkarni (@adikulk) October 17, 2017
So, Virat Kohli has the time and energy to wish and visit Arijit Singh, but he doesn't have the courtesy to wish Anil Kumble.

— Nitin Naik (@toi_nitinnayak) October 17, 2017
Waiting for Kohli to keep aside his ego and wish anil Kumble on his birthday. #HappyBirthdayKumble

— Heerahee (@Heerahee) October 17, 2017
Why has Virat Kohli still not wished Anil Kumble ?? ???

— A D I (@Sachinspired) October 17, 2017