Father reveals how he shaped Shubman Gill as a world-class cricketer
Gill used to train on a charpoy in his early days
Updated - Feb 5, 2018 12:41 pm
1K Views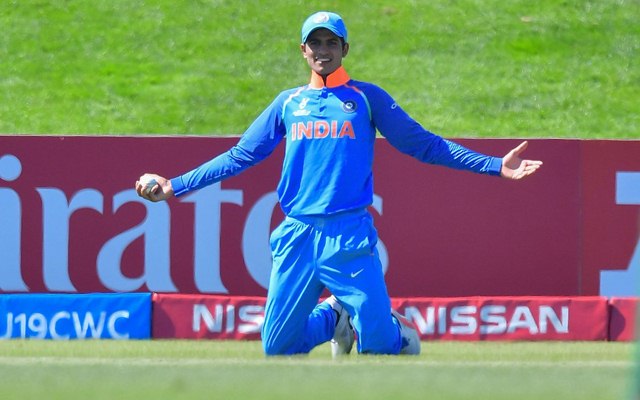 Follow us on Google News
The happiest moment for any father is to see his children successful and doing well in their lives. This is exactly the case with Shubman Gill's father Lakhwinder Singh, and he is now on cloud nine after seeing his son's success at the Under-19 World Cup. Shubman ended the tournament as the second highest run scorer and also was awarded the 'Player of the Series'.
Lakhwinder Singh, who is a great cricket enthusiast himself wanted to play the game professionally when he was young. But lack of opportunities nipped his dream in the bud. But Mr.Singh didn't let his dreams break so easily. He molded his son into a good cricketer, someone who made the nation proud with his performances at the U-19 World Cup.
Shubman Gill's first coach
Lakhwinder Singh was Shubman Gill's first ever coach and taught him the basics of the game. Although he was not a professional cricketer, such is Lakhwinder Singh's cricketing nous that he can give any coach a run for his money. Even now, whenever the youngster is in doubt over cricketing matters, he consults his father for advice.
Lakhwinder Singh worked very hard with Shubman's game and also made many sacrifices to build his son's career. To provide Shubman better training, Lakhwinder moved his family from Chak Khere Wala – a village in Fazilka district – to Mohali in 2007. Shubman's grandparents still stay in Chak Khere Wala. "Our village is about 300 kilometers from Mohali. But due to lack of facilities there, we brought him here (to Mohali)," recalled Lakhwinder.
Moreover, Lakhwinder started training Shubman at a very young age. He further added that Gill liked no other toys except for the cricket bat. "Shubman was interested in the sport since a very young age. He started wielding a bat at the age of three. Shubman never liked any other toy. He would play with a bat and a ball even before going to bed," he said.
Hard work and unique training
Lakhwinder Singh also helped Shubman deal with fast bowling by giving him throwdowns over a charpoy. He used to make Gill play somewhere around 500 to 700 balls each day to develop his game. Interestingly, Gill also used to play with a single stump to middle the ball better.
"Seeing his interest in the game, I decided to train him. I made him play 500 to 700 balls every day. To make him adept at handling fast bowling, I used to throw the ball over a manji (charpoy). The ball tends to travel faster after skidding off the charpoy. Besides that, he practiced with a single stump as his bat. That helped Shubman in finding the middle of the bat more often than not," said Lakhwinder.
Follow us on Telegram