Fazeela Saba posts a picture with Darren Sammy and Twitter goes gaga over it
Pakistanis go nuts to see Fazeela posting a picture with
Updated - Sep 15, 2017 7:23 pm
2.8K Views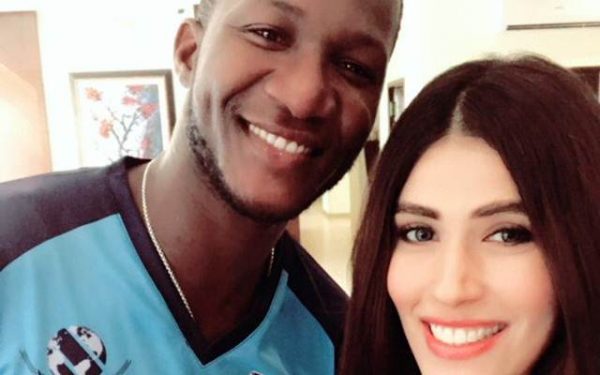 The ongoing Independence Cup has stolen the limelight across the cricketing fraternity in the past week as stars from all over the globe toured Pakistan for the first time in 8 years in order to revive International cricket in Pakistan. Amongst all the stars, Darren Sammy is widely respected amongst the masses in Pakistan and one of her biggest fans is Fazeela Saba, a PTV anchor Fazeela Saba.
The moving force behind Pakistan hosting an International match after years, PCB Chief Najam Sethi, recently stated that PSL finals held earlier this year which paved way for the World XI side to host the three International matches. Pakistan, post the Independence Cup, host Sri Lanka and West Indies later this year in T20s.
According to the statements by ICC executive Dave Richardson during the Second match of the series, claimed very soon Pakistan will be hosting full series tours comprising of Tests and ODIs as well. Pakistan, after winning the First T20I, lost the Second T20I to level the series at 1-1.
Sammy was one of the few who volunteered in Pakistan Cricket Board's effort to convince the ICC regarding its level of security by featuring in the finals of Pakistan Super League (PSL) held at Gaddafi Stadium, Lahore. As a result, the West Indian won many a heart in Pakistan and one of them was the incredibly gorgeous PTV Sports anchor Fazeela Saba.
Due to her looks, she herself carries an army of fans and witnessing the picture she recently uploaded with Sammy, Twitter went ballistic to see the two popular figures together. But out of the two, it was the beautiful Fazeela Sabha, who attracted all the limelight, despite the fact that it was Sammy adjacent to her.
Here are some of the reactions
Another Darren Sammy interview coming soon on PTV World pic.twitter.com/ipAP1y82Lt

— Fazeela Saba (@FazeelaSaba1) September 14, 2017
I really like u u r so cute Mashallah Trust me i really mean it fazeela ?????????????????????????????????????????????????????????❤❤❤❤❤❤❤❤❤❤❤

— zunaira (@zunaira_zuni16) September 14, 2017
So gr8 2 c u,looking gorgeous as always.Luking forward fr da interview

— ZUHAIR (@ZUHAIRmehdi) September 14, 2017
Darren Sammy Teri qismat kitna khush naseeb hy

— Boss (@starqureshi75) September 14, 2017
Hw cute lady…?? @FazeelaSaba1 ?

— Ali Kashmiri ?? (@AliGhazali10) September 14, 2017
You should try your luck in #Movies !

— Gulail Wala (@khurram786khan1) September 14, 2017