Fifth season of BPL to commence from November 3
BPL will be again contested between 7 teams and will be played in three cities.
Updated - Sep 18, 2017 11:08 pm
4.5K Views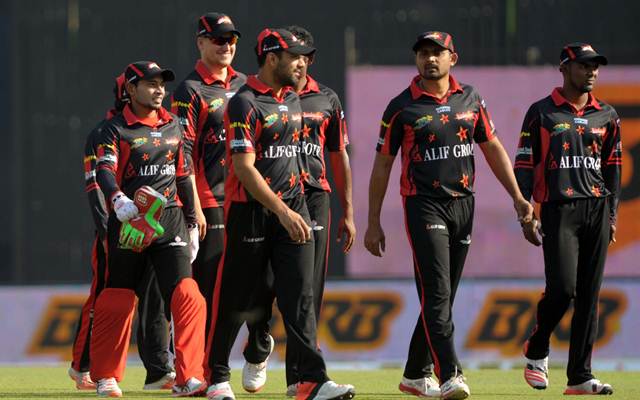 The fifth edition of the Bangladesh Premier League is scheduled to kick off on November 3, Friday. Sylhet franchise, which will mark a return to the BPL after missing the previous season, will lock horns with defending champions Dhaka Dynamites in the curtain raiser which will be held at the Sylhet International Stadium.
7 teams, 3 cities
Sylhet will host a BPL game for the first time. Earlier, though the authorities wanted it to be an 8-team event; Barisal Bulls was barred from taking part in this year's tournament. Hence, seven teams will compete for the ultimate glory – Sylhet Sixers, Dhaka Dynamites, Rajshahi Kings, Rangpur Riders, Comilla Victorians, Khulna Titans and Chittagong Vikings. The BPL has helped in raising the standard of cricket in the country and it will continue to do so this year.
The first eight games will be played at the Sylhet International Stadium till all teams shift base to Dhaka for the next 16 games. Chittangong will be seen hosting the next nine before the action will move back to Dhaka for the Eliminators and the finals. A reserve day has been kept for the finals only.
BPL and Global T20 clash dates
BPL is going to clash dates with another mega event – Global T20 League in South Africa. Plenty of top players have to make a choice between both these events. One of the biggest attractions of T20 format Shahid Afridi has confirmed that he will be seen in action in the BPL.
The final will be played at the Sher-e-Bangla National Stadium on December 12. All 7 teams will appear in 12 games each, 6 day games and as many evening ones. The Eliminator and the first Qualifier will be played on the same day on December 8. The second Qualifier will be played two days later on December 10 in Dhaka.
Here are the fixtures for the much awaited season if the BPL:
| | | | | |
| --- | --- | --- | --- | --- |
| 1 | Friday, November 03, 2017 | Sylhet Sixers VS Dhaka Dynamites | 2:30 PM | Sylhet |
| 2 | Friday, November 03, 2017 | Rajshahi Kings VS Rangpur Riders | 7:15 PM | Sylhet |
| 3 | Saturday, November 04, 2017 | Sylhet Sixers VS Comilla Victorians | 2:00 PM | Sylhet |
| 4 | Saturday, November 04, 2017 | Khulna Titans VS Dhaka Dynamites | 7:00 PM | Sylhet |
| 5 | Monday, November 06, 2017 | Chittagong Vikings Comilla Victorians | 2:00 PM | Sylhet |
| 6 | Monday, November 06, 2017 | Sylhet Sixers VS Rajshahi Kings | 7:00 PM | Sylhet |
| 7 | Tuesday, November 07, 2017 | Rangpur Riders VS Chittagong Vikings | 2:00 PM | Sylhet |
| 8 | Tuesday, November 07, 2017 | Sylhet Sixers VS Khulna Titans | 7:00 PM | Sylhet |
| 9 | Friday, November 10, 2017 | Rangpur Riders VS Rajshahi Kings | 2:30 PM | Dhaka |
| 10 | Friday, November 10, 2017 | Dhaka Dynamites VS Sylhet Sixers | 7:15 PM | Dhaka |
| 11 | Saturday, November 11, 2017 | Chittagong Vikings VS Khulna Titans | 2:00 PM | Dhaka |
| 12 | Saturday, November 11, 2017 | Rajshahi Kings VS Comilla Victorians | 7:00 PM | Dhaka |
| 13 | Monday, November 13, 2017 | Dhaka Dynamites VS Khulna Titans | 2:00 PM | Dhaka |
| 14 | Monday, November 13, 2017 | Comilla Victorians VS Chittagong Vikings | 7:00 PM | Dhaka |
| 15 | Tuesday, November 14, 2017 | Khulna Titans VS Sylhet Sixers | 2:00 PM | Dhaka |
| 16 | Tuesday, November 14, 2017 | Dhaka Dynamites VS Chittagong Vikings | 7:00 PM | Dhaka |
| 17 | Friday, November 17, 2017 | Rajshahi Kings VS Sylhet Sixers | 2:30 PM | Dhaka |
| 18 | Friday, November 17, 2017 | Khulna Titans VS Chittagong Vikings | 7:15 PM | Dhaka |
| 19 | Saturday, November 18, 2017 | Dhaka Dynamites VS Rajshahi Kings | 2:00 PM | Dhaka |
| 20 | Saturday, November 18, 2017 | Rangpur Riders VS Comilla Victorians | 7:00 PM | Dhaka |
| 21 | Monday, November 20, 2017 | Dhaka Dynamites VS Comilla Victorians | 2:00 PM | Dhaka |
| 22 | Monday, November 20, 2017 | Sylhet Sixers VS Rangpur Riders | 7:00 PM | Dhaka |
| 23 | Tuesday, November 21, 2017 | Rajshahi Kings VS Khulna Titans | 2:00 PM | Dhaka |
| 24 | Tuesday, November 21, 2017 | Dhaka Dynamites VS Rangpur Riders | 7:00 PM | Dhaka |
| 25 | Friday, November 24, 2017 | Khulna Titans VS Rangpur Riders | 2:30 PM | Chittagong |
| 26 | Friday, November 24, 2017 | Chittagong Vikings VS Sylhet Sixers | 7:15 PM | Chittagong |
| 27 | Saturday, November 25, 2017 | Comilla Victorians VS Rajshahi Kings | 2:00 PM | Chittagong |
| 28 | Saturday, November 25, 2017 | Chittagong Vikings VS Rangpur Riders | 7:00 PM | Chittagong |
| 29 | Monday, November 27, 2017 | Chittagong Vikings VS Dhaka Dynamites | 2:00 PM | Chittagong |
| 30 | Monday, November 27, 2017 | Khulna Titans VS Rajshahi Kings | 7:00 PM | Chittagong |
| 31 | Tuesday, November 28, 2017 | Rangpur Riders VS Sylhet Sixers | 2:00 PM | Chittagong |
| 32 | Tuesday, November 28, 2017 | Khulna Titans VS Comilla Victorians | 7:00 PM | Chittagong |
| 33 | Wednesday, November 29, 2017 | Chittagong Vikings VS Rajshahi Kings | 2:00 PM | Chittagong |
| 34 | Wednesday, November 29, 2017 | Comilla Victorians VS Dhaka Dynamites | 7:00 PM | Chittagong |
| 35 | Saturday, December 02, 2017 | Comilla Victorians VS Rangpur Riders | 2:00 PM | Dhaka |
| 36 | Saturday, December 02, 2017 | Dhaka Dynamites Rajshahi Kings | 7:00 PM | Dhaka |
| 37 | Sunday, December 03, 2017 | Sylhet Sixers VS Chittagong Vikings | 2:00 PM | Dhaka |
| 38 | Sunday, December 03, 2017 | Rangpur Riders VS Khulna Titans | 7:00 PM | Dhaka |
| 39 | Tuesday, December 05, 2017 | Comilla Victorians VS Khulna Titans | 2:00 PM | Dhaka |
| 40 | Tuesday, December 05, 2017 | Rajshahi Kings VS Chittagong Vikings | 7:00 PM | Dhaka |
| 41 | Wednesday, December 06, 2017 | Dhaka Dynamites VS Rangpur Riders | 2:00 PM | Dhaka |
| 42 | Wednesday, December 06, 2017 | Comilla Victorians Sylhet Sixers | 7:00 PM | Dhaka |
| 43 | Friday, December 08, 2017 | Eliminator (3rd Position VS 4th Position) | 2:00 PM | Dhaka |
| 44 | Friday, December 08, 2017 | 1st Qualifier (1st Position VS 2nd Position) | 7:00 PM | Dhaka |
| 45 | Sunday, December 10, 2017 | 2nd Qualifier (Looser of 44 VS Winner of 43) | 7:00 PM | Dhaka |
| 46 | Tuesday, December 12, 2017 | Final (Winners of 44 VS Winner 45) | 7:00 PM | Dhaka |