'Foodie' Virat Kohli interested to learn cooking after his retirement
Kohli has always been a foodie but his fitness regime broke his love affair with tasty (junk or spicy) food.
Updated - Nov 10, 2019 6:08 pm
574 Views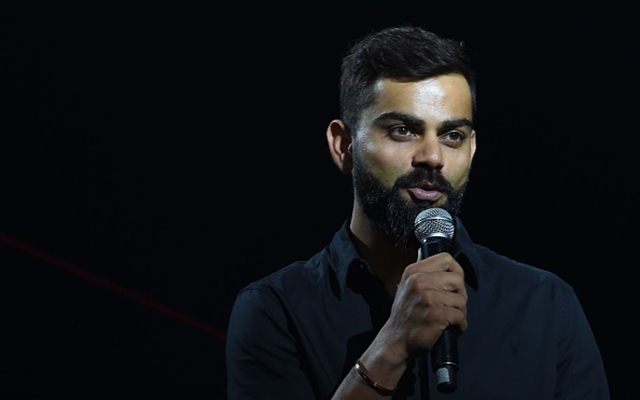 Follow us on Telegram
Having grown up in a Punjabi household, it was kind of mandatory to have delicious Punjabi food every day. Moreover, the effect of being based out of Delhi made Virat Kohli affectionate to mouth-watering street food from his very childhood days.
Kohli has always been a foodie but his fitness regime broke his love affair with tasty (junk or spicy) food. He recently turned into a vegan for his obsession with being the fittest. He previously mentioned quite a few times, after becoming a vegan, he felt fitter than before.
Virat Kohli is keen to learn cooking once he retires
In his exclusive interview with NDTV, the Indian skipper Virat Kohli disclosed how his interest in trying out new foods made him a foodie. He said, "I've been a foodie since I was a kid, I loved trying foods, used to eat a lot of junk bag then. But then I started travelling and trying different cuisines but yeah I love food….love having well-cooked food."
He added, "I do not (cook) but I understand flavour, I understand how well a dish is cooked, so can potentially learn it. When I'm done with playing cricket I think cooking is something, I would definitely be interested in."
We can definitely expect a food brand being launched by him, given his interest in endorsing healthy food items. More so, because recently he launched a restaurant "One8 Commune" where it is supposed to have world-wide cuisines available.
On November 5, Virat Kohli was seen celebrating his 31st birthday with his wife, Anushka Sharma in the hills of Bhutan. They went on a trek, as they say, that they both love travelling and exploring new places. The couple has been seen enjoying their time off work, away from the limelight and media attention.
The Indian skipper will be back leading the Indian team for the two-match Test series against Bangladesh. The series will also include India's first-ever day-night Test match which will be played at the Eden Gardens. Team India is currently playing three-match T20I series. After the completion of the T20I series, they will take on two-match Test series, starting from November 14.
[interaction id="5dbc3df15b2f78022a820c30″]
Follow us on Google News