For me, batting is like meditation, says Cheteshwar Pujara after conquering Australia
He faced a massive 1258 deliveries during the series which is a testament to his extreme concentration.
Updated - Jan 7, 2019 6:23 pm
844 Views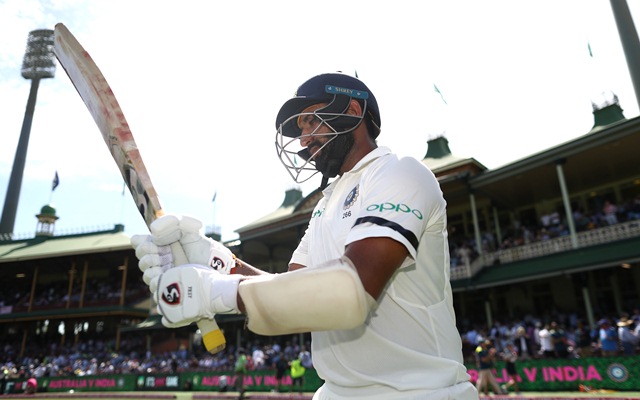 Cheteshwar Pujara was the rock who refused to break despite being hit constantly by the Australian bowlers. He took a blow on his body and helmet but didn't deter and ended up winning the Player of the Series award in the recently concluded Test series. Amazed by the patience with which Pujara, the frustrated Nathan Lyon also asked him if he gets bored playing such a game day in day out.
However, for India's number three, batting is like meditation and one cannot bat for a long period if he/she has something else in the mind. With such amazing concentration, Pujara faced a massive 1258 deliveries in the seven innings and went on to amass 521 runs. The second best batsman of the series had scored only 350 runs speaks volumes of Pujara's performance with the bat.
"I try and keep my mind blank. For me, batting is like meditation. If you have any thoughts in the middle then you can't concentrate for long periods. Whenever I am at the non-striker's end, I try to have a blank mind. Not to think about anything, just enjoy the moment and still be aware of what is happening around me," he said while speaking to Fox Cricket.
Credits training in domestic cricket
Cheteshwar Pujara, like his other teammates, also gave credit to the first-class structure back home which helped him concentrate more and make a patient batsman which he is today. "I have been able to score big runs in domestic cricket. When you score big runs, you develop that concentration, that habit of staying at the crease for longer periods. That habit has helped me," the 30-year-old further added.
Despite achieving so many accolades, the down to earth Pujara believes practice paves the way for the success and also recalled his father's suggestion. "For me, practice is the most important thing. My father has told me one thing – you cannot get out in the nets. If you create a habit of playing a loose shot in the net, it will automatically come in the match. For me, success is about practising well and preparing well," Pujara concluded.
[interaction id="5c31bc7eb1837611a39fe41e"]