Former South Africa pacer Andre Nel recalls Sreesanth episode at The Wanderers
The events that had unfolded after the tussle was indeed hilarious to say the least.
Updated - Feb 8, 2018 12:57 pm
1.9K Views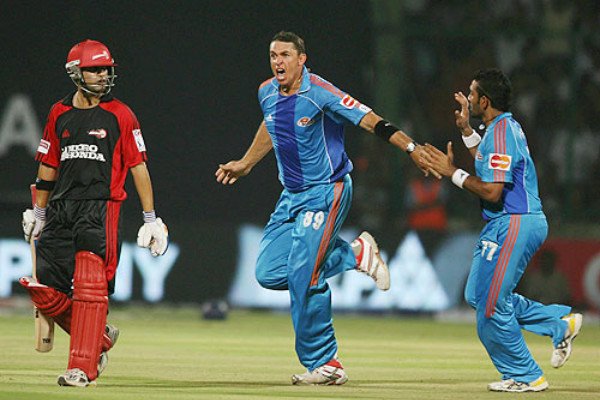 Former South African bowler Andre Nel has reminisced about his tussle with the S Sreesanth back in 2006. The discarded Indian pacer, Sreesanth celebrated by dancing on the pitch after smashing an animated Nel for a six. The Transvaal-born 40-year-old right-arm fast bowler Nel is concurrently enjoying the coaching stint in the domestic fold. He eventually remarked his nature was to be on the top of the game while taking on his opposition. Nel featured in 79 ODIs and 36 Tests to bagged 229 wickets across formats.
As of now, Sreesanth saw the Supreme Court of India has sent a notice to the Board of Control for Cricket in India (BCCI) after the life ban was revoked by Kerala High Court in 2017. Sreesanth is facing the long-standing battle in the court to get his name cleared following the Indian Premier League (IPL) spot-fixing scandal in 2013.
The barrage of words between Andre Nel and Sreesanth
Sreesanth was tested by short-pitched deliveries bowled by Nel throughout his stay in the middle. Nel exchanged a few words with Sreesanth after peppering him with short stuff. Sreesanth being a naturally aggressive character that he is was irked and what unfolded later was hilarious. Sree swung his bat wildly to see a ball sail over the long off fence and was found dancing in the middle irritating Andre Nel.
In the heat of the moment, Nel had a glare at Sreesanth without uttering the word. Nel said that he always liked being aggressive remembering the events that had unfolded. "I have always enjoyed the battle. If you want to play international sport and you can't accept winning a battle or lose a battle," Nel reminisced.
"I have always enjoyed that, that's in my nature. The moment people said I can't do something, that's my nature to prove you wrong," Nel further added. Nel also spoke about Sreesanth's IPL match-fixing scandal. "Yeah, I heard he had gone to court for match-fixing and he is in a bit of trouble," Nel said.
'Sreesanth was a very good bowler'
However, Nel rated Sreesanth as of the best bowlers in his playing days. "He was a good cricketer in his time, I will always respect him for that. He was a good cricketer and a good bowler of that era," Nel stated. Further, "Most of the guys I had the biggest fights with are probably best friends with me now. People don't understand the person away from cricket," Nel told Wisden India.
Also, Nel expressed his interest to bowl to the likes of Virat Kohli, Shikhar Dhawan, and Hardik Pandya. He opined that it would be a great experience bowling against them. Moreover, he lauded the Indian batsmen for acclimatizing to the bouncy South African pitches quickly and credited them for doing well in the series.
For more cricketing updates and news, follow CricTracker.com website