Fourth ODI between New Zealand and South Africa moved from Napier to Hamilton
Updated - Feb 14, 2017 12:59 pm
27 Views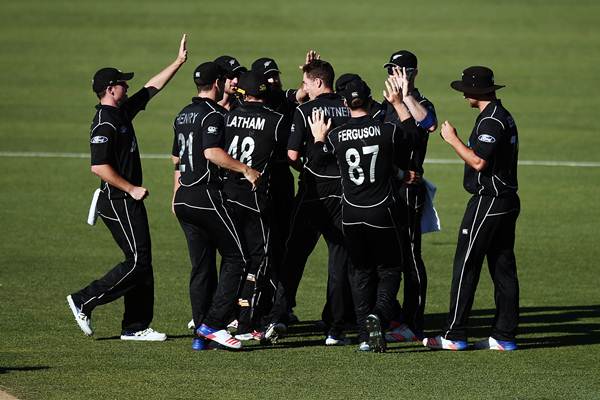 Follow us on Telegram
New Zealand Cricket had to force-shift the 4th One Day International between the Black Caps and South Africa to be played on March 1 at McLean Park in Napier. The match has now been moved to Seddon Park in Hamilton. The McLean Park needs some serious remedial work and won't be fit to host the game.
This is not the first time that an ODI has been canceled or shifted from Napier. It happened against Pakistan in January of 2016 as well. The Chappel-Hadlee game which was abandoned was due to the same reason; the drainage system at the ground isn't up to the mark and definitely not state of the art.
That has put the venue on alert and the Napier City Council launched an inquiry in the case. The NZC's chief operating officer, Anthony Crummy, said that the low-grade irrigation and drainage system were to blame and they are not confident enough to go ahead with the game. "There have been shortcomings identified in McLean Park's drainage and irrigation system which need to be remedied before we can be confident of avoiding what happened in the Chappell-Hadlee fixture." Anthony was quoted by ESPNcricinfo as saying.
The investigations that took place show that the drought conditions in the neighboring areas led to the mishap. The officer explained further by saying, "The investigation concludes that drought conditions in the Hawke's Bay necessitated significant levels of watering in the days leading up to the match which, combined with a limited drainage infrastructure and rain on match-day, resulted in a worst-case scenario."
He also added that the same thing can be avoided by taking up different cautions but if rains come pouring down even before the game, then no measures taken would work. "It's true, several measures could be employed to help mitigate this risk ahead of the South Africa match but, even then, any period of significant or extended rain in the lead-up would likely result in the same outcome. NZC, the Central Districts Cricket Association and the NCC agree this risk is unacceptable."
A fund of $900,000 has been allotted to the ground to replace the whole irrigation system and even the turf as well.
There were a lot of tickets sold but the NZC has planned to refund the full amount of the ticket price. It also plans to complete the required work and host England and Pakistan at the McLean park in the next summer. Crummy confirmed the same and said, "By doing this, we can look forward with confidence to McLean Park hosting next summer's ODIs between the BLACKCAPS and England, and the BLACKCAPS and Pakistan."
Follow us on Google News