From a friendly young sibling to a bitter rival- How Bangladesh emerged from the shadows of its big brother India
The rivalry will only get more intense in the coming days.
Updated - Mar 17, 2020 4:25 pm
325 Views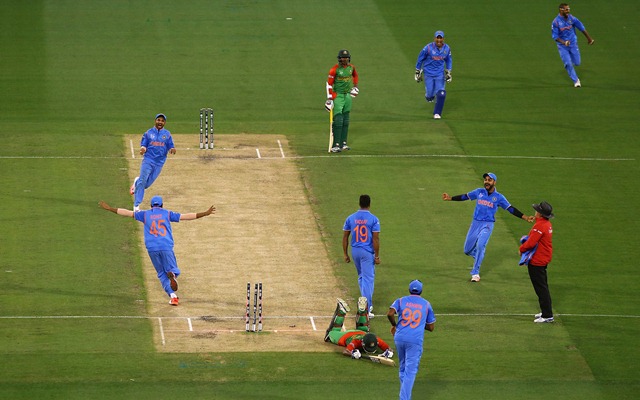 Follow us on Google News
February 09, 2020. It was the final of the 2020 ICC U-19 World Cup. India, the defending champions and the 'team to beat in the tournament' was locking horns against a Bangladeshi unit that is desperate to finally pip their big brother on the grandest stage of them all. You could see that in their eyes from the very outset. For far too long, Bangladesh had seen their dreams getting crushed at the hands of their big brothers.
The U-19 colts had grown up, watching their side bottle a plethora of match-winning situations. They had themselves experienced it first hand when they lost the Asia Cup final. Come the U-19 finals, they wanted to change the norm. They wanted India to realize how it feels to be at the losing end. Tempers flared, choicest of words were exchanged and it all came to a head after the young Tigers finally achieved what their senior pros couldn't: Beat India in a high-stakes encounter.
The situation got really ugly after players from both sides got engaged in a physical altercation in the immediate aftermath of Bangladesh's World Cup triumph, adding a new chapter to a slew of bitter on-field moments that have shaped this rivalry in the past decade.
Until 2o years ago, India-Bangladesh was a friendly sibling rivalry. Former BCCI and ICC President Jagmohan Dalmiya were instrumental in Bangladesh getting their Test status in 2000. Dalmiya even arranged for a tri-series, adding Kenya as the third team, to give Bangladesh enough game-time ahead of their maiden 50-over World Cup in England.
But, as time progressed, Bangladesh's talent pool began to grow and the younger brother- disappointed by the fact that it has been marginalized in the grander scheme of things- wanted to emerge from the shadows of the older one.
Did the 2007 World Cup win against India give Bangladesh an impetus that it could finally emerge from the shadows of its big brother?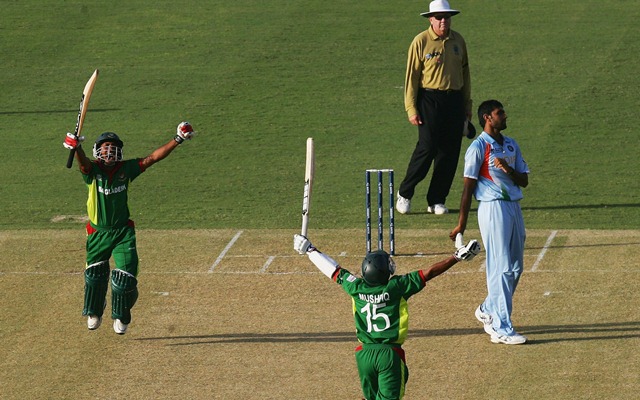 17 March 2007. If there ever was a day that would be marked in red-letters, as far as Bangladesh cricket is concerned, it has to be March 17, 2007. It was on this very day that the Asian Tigers gave a glimpse of what was to follow in the upcoming years.
By 2007, the likes of Shakib Al Hasan, Mushfiqur Rahim, and Tamim Iqbal had broken into the Bangladeshi outfit, and little did the Men in Blue knew that it would be at their expense, that these stupendously talented cricketers will pull off their first major heist. India's much-vaunted batting-unit was blown away for 191 and when Tamim Iqbal danced down the track to maul Zaheer Khan for a huge six over his head, the writing was on the wall.
This was a different Bangladesh. The one, who wasn't going to be overawed by big names. They wanted to compete. They wanted to show their big brothers India that they no longer want to be under their shadows; in fact, they want to look them in the eye and say, ' we are here for a fight'. Sure, they were! And Mushfiqur Rahim's fist pump after knocking off the winning runs was a true reflection of it.
Did the 2015 World Cup give fuel to the Indo-Bangla fire?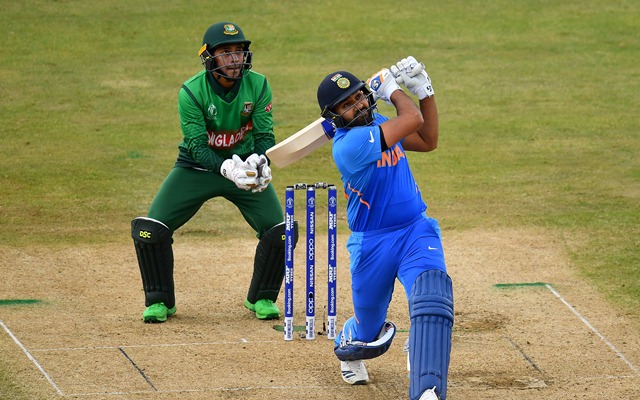 By the time, the 2015 World Cup had rolled around, India, Australia, and England had taken over the ICC. And, Bangladesh was worried about getting marginalized even more, with Mushfiqur Rahim openly questioning 'the bias against Bangladesh'
Bangladesh, however, was having a brilliant World Cup campaign. They had ousted England and had made their way into the knockouts for the very first time. And, they were to face India in the quarterfinals. 
The Asian Tigers thought that this was their chance to once again assert a statement at the expense of India. The emotions were rampant and when Rohit Sharma was given a reprieve on the no-ball, all hell broke loose, courtesy online wars, driven by social media and a passionate Bangladesh media. 
Bangladesh eventually lost the game by over a hundred runs but the burning desire of 'losing to anyone but India' had taken a turn. 
2015 ODI series win- An inflection point in Indo-Bangladesh rivalry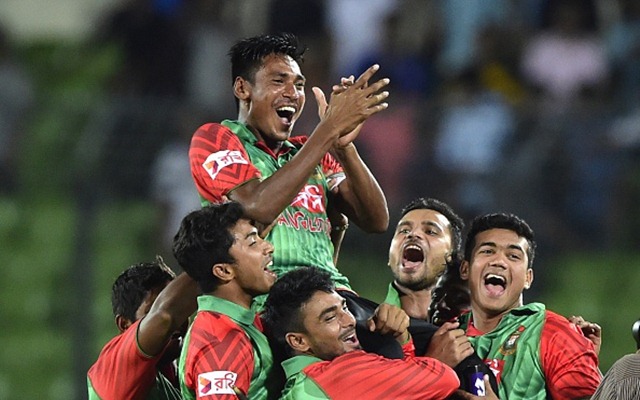 Right! If you were to pick one series that single-handedly changed the manner in which an Indo-Bangla rivalry was perceived, it has got to be the three-match ODI series between the two nations in June 2015.
The Asian Tigers hadn't forgotten the chastening defeat in the World Cup quarterfinals, and the only thing that was on their mind when India traveled to their country for a three-match ODI series was- Revenge.
And, their dream of doing that, was turned into a reality, by a young left-arm fast bowler, who was making his debut- Mustafizur Rahman. Rahman bamboozled the Indian batting-unit through his cutters and proceeded to claim 11 wickets in the first two matches to help the Asian Tigers take an unassailable 0-2 lead. 
India were shell shocked and the Bangladeshis were over the moon. Their dream of beating their elder brother in a series was finally a reality. But, perhaps the fans on social media and Bangladesh media went a bit too far when they displayed Mustafizur carrying a severed head of the Indian batsmen.
Matters escalated on the field too when MS Dhoni shoulder-barged Mustafizur Rahman. India eventually avoided the ignominy of a whitewash by winning the third ODI but the seeds of an intense, highly competitive and at times bitter rivalry had already been sowed.
The rivalry continues
In the next few years, Bangladesh and Indian would lock horns in a plethora of nerve-jangling encounters like the 2016 T20 WC fixture in Bengaluru, Nidahas Trophy and Asia Cup final. But, in each of those encounters, Bangladesh's inexperience in crunch situations and the overriding emotion of beating India 'at all cost' proved to be their undoing.
But, with the U-19 Colts finally breaching that barrier in the recently-held finals, has that shackle been broken too? Whether the senior team takes a cue from it, is something that remains to be seen. But, one thing is for sure, India-Bangladesh is the rivalry of the Asian sub-continent, far more competitive than the traditional Indo-Pak tussle, which has lost its charm in the past decade or so. And, it will only get even more intense in the coming days.
Follow us on Telegram