Gary Kirsten reveals how he bagged Team India's coaching job in 'seven minutes'
Gavaskar, who was a part of the coaching selection committee at that time, asked Kirsten if he would like to consider the role.
Updated - Jun 15, 2020 12:35 pm
12.7K Views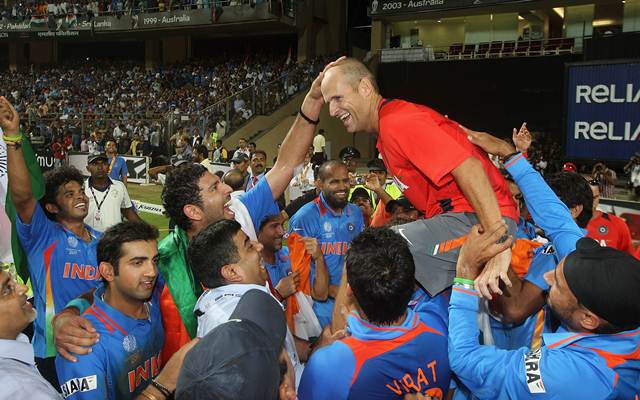 Follow us on Google News
Gary Kirsten, considering his impressive coaching stint, was considered as one of the most successful coaches of Team India. Kirsten led India to no.1 rankings in Tests in 2009 and two years later, he played a crucial role in India's triumph in 2011 World Cup.
However, Kirsten had no plans whatsoever to don Team India's coaching role until he received a surprise invitation from Sunil Gavaskar. Gavaskar, who was a part of the coaching selection committee at that time, asked Kirsten if he would like to consider the role.
Kirsten, while speaking on TalkSport's Following On Podcast, revealed how he bagged the role of Team India's coach in a 'bizarre' way.
"I've got an email from Sunil Gavaskar – would I consider coaching the Indian team," Kirsten said. "I thought it was a hoax. I never even answer it. He sent me another email, and said, 'Will you come for an interview?'. I showed it to the wife, and she said, 'They must have the wrong person'. So it was a bizarre entry into the whole thing, and rightly so. I mean, I had no coaching experience or anything," revealed Kirsten.
The contract which I was offered had Greg Chappell's name on it: Gary Kirsten
Kirsten, who was initially offered a two-year role, received a contract extension in 2010 until the World Cup the subsequent year. His later went on to coach the South African side. Kirsten went unprepared for the interview but it was Ravi Shastri, who was in the selection panel at that time, who served as an 'ice breaker'.
"Ravi Shastri, who was on the committee, said to me, 'Gary, tell us, what did you guys as the South African team do to beat the Indians?'. I thought it was a great ice-breaker because I could answer it and I answered it in about two-three minutes without saying strategies that we kind of probably use to this day.
"He was suitably impressed, as was the rest of the board, because three minutes later – I had been in in the interview about seven minutes – the secretary of the board slides across a contract to me," he added.
Kirsten also revealed that the contract handed to him at that time had outgoing coach Greg Chappell's name on it.
"(I) pick up the contract, and the first page, I am looking for my name frantically, and I can't see my name, but I see Greg Chappell's name, who was the previous coach.
"So I slide the contract back and I say, 'Sir, I think you have given me your previous coach's contract. He kind of looks at it a little bit perturbed, and takes out a pen from his pocket, scratches out his (Chappell) name and writes my name on it," said Kirsten.
Follow us on Telegram