Gautam Gambhir lashes out at quarantine offenders, says either opt for safety or go to jail
Gambhir also announced Rs 50 lakh help from his MPLAD fund for equipments related to COVID-19 treatment.
Updated - Mar 24, 2020 12:10 pm
312 Views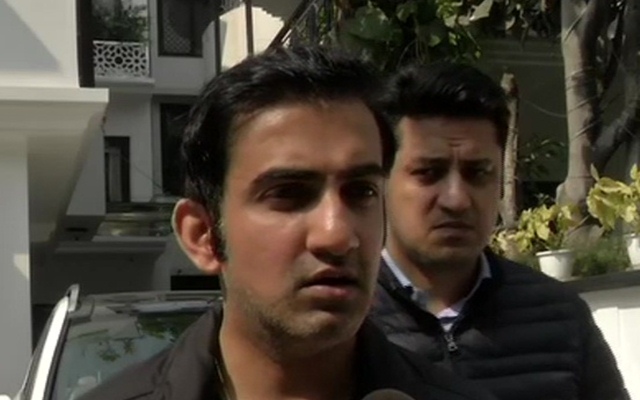 Former India cricketer Gautam Gambir has always been known to be a straight speaker. He never minces his words — be it on matters of cricket, society or politics and the 38-year-old recently spoke out on those who are violating the government's quarantine rules. The cricketer-turned-politician said those who are violating the government's quarantine guidelines can either choose to stay safe or go to jail.
The central and various state governments in India have called for a complete lockdown to tackle the spread of the Coronavirus pandemic which has claimed nine lives in the country so far, besides affecting 492. Worldwide, over 15,000 people have died from the deadly virus while almost 3.5 lakh have been affected.
On Sunday, while several Indians responded to Prime Minister Narendra Modi's invite to observe a 'Janta Curfew' and clap for the heroic efforts of the medical experts to tackle the coronavirus, there were also instances where masses came out to the streets celebrating the occasion, raising the risk of mass spread of the disease.
Gautam Gambhir was offended by people's violation of the quarantine rules and he vented his anger out on Twitter, saying the offenders would either go to quarantine along with their family or to jail. He asked people not to turn into a threat to the society and said a fight was on for the existence and not livelihood. "Khud bhee jayenge aur parivaar ko bhee leke jayenge, quarantine or jail (either you go to quarantine with family or you go to jail)," he said.
"Don't be a threat to society. We are fighting for our existence, not for our livelihood. Follow the government's lockdown guidelines," the BJP MP from East Delhi added. On Monday, Gambhir also announced a help of Rs 50 lakh from his MPLAD fund for the equipments needed for COVID-19 treatment.
खुद भी जाएँगे और परिवार को भी ले जाएँगे !
Quarantine या जेल !

पूरे समाज पर ख़तरा ना बने और घर पर रहें ! जंग नौकरी और व्यापार से नहीं, ज़िंदगी से है ! ज़रूरी सेवायें देने वाले परेशान ना हों इसका भी ध्यान रखें !
LOCKDOWN !!!! का पालन करें
जय हिंद 🇮🇳

— Gautam Gambhir (@GautamGambhir) March 23, 2020
Several states in India called a lockdown to break the chain so that the outbreak doesn't get worse. But the mass violence of the safety standards on Sunday left the authorities worried and there were talks to implement things more strictly.
BCCI asks people to stay indoors
The Board of Control for Cricket in India (BCCI) also advised citizens to stay indoors. In a tweet, the governing body said: "If you ever dreamed of playing for millions around the world, now is your chance." The BCCI is facing some serious challenges over the possibility of the Indian Premier League (IPL) getting cancelled because of the pandemic. The tournament, which was set to begin on March 29, has been deferred till April 15 now.