'Grateful to play for India' – Virat Kohli, Sachin Tendulkar and several cricketers extend wishes on 74th Independence Day
Greats like Sachin Tendulkar, Yuvraj Singh, Virender Sehwag and Virat Kohli extended their warm wishes on this historic occasion.
Updated - Aug 15, 2020 5:55 pm
196 Views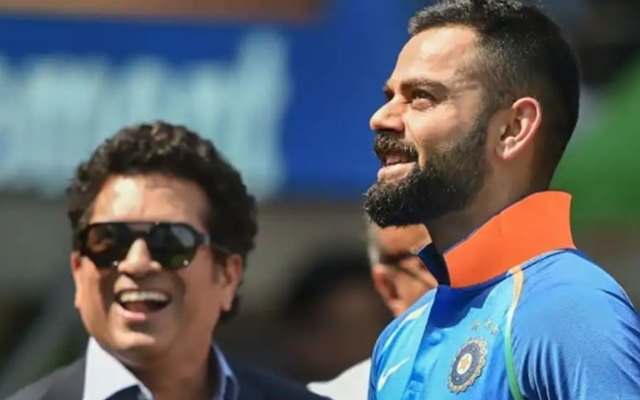 Follow us on Telegram
India moved to its 74th year of independence today with wishes pouring form every sector of the country and from all over the world. PM Narendra Modi unfurled the flag at Red Fort on Saturday morning and gave a wonderful view of the aspirations of the new India. The celebrities from all over the country poured their wishes on this great day to their fellow countrymen.
The cricketing fraternity was also quick to wish the people of the country. Virat Kohli and Sachin Tendulkar were among the first few who wished the citizens of the country on this big day. The two legends extended their warm wishes on Twitter while acknowledging the work of the front line warriors in the pandemic time.
No power can defeat 1.3 billion Indians: Sachin Tendulkar
Sachin, while wishing the people on Independence Day in his tweet, said that 1.3 billion Indians are fighting this COVID-19 battle collectively, "This 15th of August is different. Today is our time to stand up as a collective and be united as one and fight this war against COVID together. No power can defeat 1.3 billion Indians," read Tendulkar's tweet.
Kohli also tweeted his wishes while mentioning the great role the front-line warriors have played in such a tough time, "Wishing everyone a Happy Independence Day! God bless our great nation and its countrymen especially the ones who are away from their families, fighting on the front lines to keep us safe. Jai Hind."
Other cricketers, both former and current players, also extended their wishes to the fellow countrymen on this significant day.
Players have always been active in wishing the people on every great occasion. Since the Independence day carries big importance in every Indian's heart, one can see a bundle of emotions coming out of every cricketer's tweet of whomsoever has tweeted. The players have also not forgotten to mention the contribution of COVID-19 warriors in their wishes.
India got independence on 15th August 1947 after years of extensive battle, in which the country lost some great warriors who laid down their lives for the nation. 
Here are the tweets:
Sare jahan se accha hindostan hamara
Hum bulbulain hain iss ki yeh gulistan hamara🙏 pic.twitter.com/IXH81D3wMd

— Ashoke Dinda (@dindaashoke) August 15, 2020
When patriotism is strong in our hearts, it will find a way to express itself no matter what!

Here's a shining example of how autism can't limit the power of our children's spirit.

With love & care, all our children can blossom in their own unique ways.

Jai Hind. 🇮🇳 pic.twitter.com/kLAJ4devml

— Sachin Tendulkar (@sachin_rt) August 15, 2020
आप सभी देशवासियों को 74 वे स्वतंत्रता दिवस की हार्दिक शुभकामनाएं एवं बहुत बहुत बधाई #happyindependenceday2020
जय हिन्द जय भारत
🇮🇳🇮🇳🇮🇳🇮🇳🇮🇳🇮🇳

— Parvinder Awana (@ParvinderAwana) August 15, 2020
Happy Independence Day everyone 🇮🇳 Grateful to be playing for my country 🙏 Jai Hind pic.twitter.com/m7pmy0jwDX

— Deepti Sharma (@Deepti_Sharma06) August 15, 2020
To all my friends and Fans in India Happy Independence Day #india #love #secondhome https://t.co/i6gnEg4oEr

— David Warner (@davidwarner31) August 15, 2020
Proud to be an Indian and may our country continue to soar high. Wishing you a Happy Independence Day 🇮🇳🇮🇳 pic.twitter.com/CwxgYp3jBE

— Ravindrasinh jadeja (@imjadeja) August 15, 2020
74th happy Independence Day . Jai Hind pic.twitter.com/4OHcMRrSfR

— Mohammad Shami (@MdShami11) August 15, 2020
Wishing everyone a very Happy Independence Day 🇮🇳

Jai Hind!#IndependenceDayIndia2020 #VandeMataram pic.twitter.com/zjnE5IgH8O

— Dhawal Kulkarni (@dhawal_kulkarni) August 15, 2020
I feel pride and honour when I dedicate my each day for my country.. whether I am on the ground or having intense training sessions.. truly grateful and I'm proud to be an Indian
Happy Independence Day everyone #standunited #stayblessed #staysafe pic.twitter.com/U1TdwjNcuV

— Punam Raut (@raut_punam) August 15, 2020
Jai Hind pic.twitter.com/PWvBPuGEn3

— Deepak chahar (@deepak_chahar9) August 15, 2020
दिलाई जिसने वजूद को पहचान
जान से प्यारा वो हिंदुस्तान

देश को कोरोना से बचाना सबसे ज़रूरी है. पूर्वी दिल्ली में सभी के लिए Hand Sanitization Station लग रहें हैं।इससे काम के लिए बाहर निकले लोगों की रक्षा होगी। जय हिन्द! 🇮🇳 pic.twitter.com/Hiv8ke9iOu

— Gautam Gambhir (@GautamGambhir) August 15, 2020
A day to celebrate the identity that this nation has bestowed on me, to take pride in representing India on the world stage & to salute the sacrifices made by the innumerable valiant heroes of this vast country. Happy Independence Day, India. Jai Hind 🇮🇳 pic.twitter.com/2JnUi2Lu47

— Jasprit Bumrah (@Jaspritbumrah93) August 15, 2020
This Independence day, let's take a pledge to protect the peace and unity of our great nation. #HappyIndependenceDay pic.twitter.com/8vZCIsj652

— Yusuf Pathan (@iamyusufpathan) August 15, 2020
On this day remember the sacrifice of our freedom fighters that formed this Nation.
And I salute our brave soilders who are protecting our country day and night being away from their friends and family .#Happyindependenceday#Jaihind pic.twitter.com/WQhoiBn05T

— IamKedar (@JadhavKedar) August 15, 2020
One of the proudest moments of my life, not so because I was celebrating a win, but because it was for my country. Wishing everyone a Very Happy 74th Independence Day. #ProudIndian #JaiHind 🇮🇳 pic.twitter.com/CiDmbLDTjV

— Yashasvi Jaiswal (@yashasvi_j) August 15, 2020
आज़ादी मुबारक दोस्तों। जिस सिक्के पर एक तरफ़ आज़ादी लिखा होता है, उसके दूसरी तरफ़ ज़िम्मेदारी भी लिखा होता है। जय हिन्द 😇🙌 🇮🇳 #74thIndependenceDay pic.twitter.com/egjKyzNVP4

— Aakash Chopra (@cricketaakash) August 15, 2020
इस दिन के लिय वीरो अपना खून बहाया है
झूम उठो देशवासियों स्वतंत्रता दिवस फिर आया है
स्वतंत्रता दिवस की हार्दिक शुभकामनाएं। 🇮🇳
जय हिन्द 🇮🇳
Had 2 click dis picture, who lives in d opposite wing of our tower. It speaks volumn about him.
Patriot 👍 pic.twitter.com/Q2sfGDDTeG

— MANOJ TIWARY (@tiwarymanoj) August 15, 2020
As today marks 74th year of Independence day, on this auspicious occasion let's express our deepest gratitude to those who sacrificed their lives only to fight for our country and help us win the battle! Wishing you all a very Happy #IndependenceDay! Jai Hind! 🇮🇳 #15August2020 pic.twitter.com/hEfgEXSLv1

— Ishant Sharma (@ImIshant) August 15, 2020
Always a matter of great pride to represent the country and play for the badge! Salute this great nation.
Jai Hind! 🇮🇳 #HappyIndepenceDay pic.twitter.com/zv51hasptl

— cheteshwar pujara (@cheteshwar1) August 15, 2020
Salute to all the freedom fighters who laid down their lives for our freedom so that we could breathe in a free India. Respect & honour.
Happy 74th Independence Day my friends. #independenceday #bharat #respect #jaihind#proudindian pic.twitter.com/pvWMAoYRRf

— Shivam Dube (@IamShivamDube) August 15, 2020
#JaiHind 🇮🇳 pic.twitter.com/796YBI11Zl

— Deep Dasgupta (@DeepDasgupta7) August 15, 2020
Happy #IndependenceDay to all my fellow Indians 🇮🇳 pic.twitter.com/JBls7kqdmx

— Shreyas Iyer (@ShreyasIyer15) August 15, 2020
🇮🇳Happy Independence Day🇮🇳 to all my fellow countrymen pic.twitter.com/7e6fNmcWup

— Shardul Thakur (@imShard) August 15, 2020
A moment of pride whenever I step on the field for India. No better feeling than representing our wonderful country. Happy Independence Day 🇮🇳 pic.twitter.com/9zGEciaiFj

— Kuldeep yadav (@imkuldeep18) August 15, 2020
"अपनी मिट्टी में मेरा अस्तित्व मिलना चाहिए
मैं रहूँ या ना रहूँ
मेरा भारत ये रहना चाहिए" जय हिंद 🇮🇳🇮🇳#IndependenceDay #NationAboveAll pic.twitter.com/1cUHgdiWhc

— Gautam Gambhir (@GautamGambhir) August 15, 2020
Happy 74th #IndependenceDay to all Indians! 🇮🇳

Children are the future of India and they're the ones who will drive our nation forward.
Let's be their 'Everyday Heroes' and create the right environment which keeps them positive. pic.twitter.com/5TON75A8NQ

— Sachin Tendulkar (@sachin_rt) August 15, 2020
Can't describe in words how proud and blessed I am to be an INDIAN 🇮🇳
Happy Independence Day to each and every INDIAN out there !!

— Sanju Samson (@IamSanjuSamson) August 15, 2020
Happy Independence Day 🇮🇳 ❤️#HappyIndependanceDay pic.twitter.com/GdXpN8f7Ro

— Suresh Raina🇮🇳 (@ImRaina) August 15, 2020
Wishing every Indian a happy #IndependenceDay 🇮🇳 Nothing like stepping out for your country. pic.twitter.com/T4jRfJs0Zq

— Rohit Sharma (@ImRo45) August 15, 2020
On #IndependenceDay we recall the sacrifices of those who got us freedom. Regardless of religion or caste, they were Indians first. Today Iet's also honour those who selflessly risk their lives at our borders & hospitals.We're stronger today because they put India first everyday. pic.twitter.com/cyIHTI3NPx

— Mohammad Kaif (@MohammadKaif) August 15, 2020
Thousands martyred their lives so that we could achieve independence. Let's become citizens who honor that sacrifice and bring glory to our nation. 
2020 has been a difficult year for all, but with the courageous spirit of India, we will win, united as one. 🇮🇳#IndependenceDay pic.twitter.com/vIXWO9l9dI

— Yuvraj Singh (@YUVSTRONG12) August 15, 2020
Wishing everyone a Happy Independence Day! 🇮🇳 God bless our great nation and its countrymen especially the ones who are away from their families, fighting on the front lines to keep us safe. Jai Hind. pic.twitter.com/fhgzdUEF1G

— Virat Kohli (@imVkohli) August 15, 2020
As we celebrate 74th #IndependenceDay , let's pay our respect to freedom fighters & jawans for their countless sacrifices to build an independent #India. Our strength is in what India can do on its own, and not on what it can import/buy #VocalForLocal #MakeInIndia Jai Hind 🙏 🇮🇳 pic.twitter.com/aGaokBdhr8

— Ravi Shastri (@RaviShastriOfc) August 15, 2020
Independence means enjoying freedom and empowering others too to let them do so.
Gratitude to all those who fought to make Bharat's Independence possible.
May God bless Bharat.#IndependenceDayIndia pic.twitter.com/RttshfL3Ci

— Virender Sehwag (@virendersehwag) August 15, 2020
Going out and playing for my nation is a matter of pride! Happy #IndependenceDay, India 🇮🇳 pic.twitter.com/pbn5y1TPWH

— Shikhar Dhawan (@SDhawan25) August 15, 2020
Meine khwab mein sone ki chidiya ko parwan chadhte hue dekha hai,Chidiya ne daane kai rang ke khaae ho lekin uske jism par rang sirf tiranga dekha hai. #HappyIndependenceDay 🇮🇳 #love #unity #irf

— Irfan Pathan (@IrfanPathan) August 14, 2020
Follow us on Google News