Greg Chappell was never wrong but he should have respected Sachin, Ganguly more: Suresh Raina
Raina also stressed that Chappell's intention was always to take the Indian Cricket forward.
Updated - Jun 13, 2021 1:10 pm
5.6K Views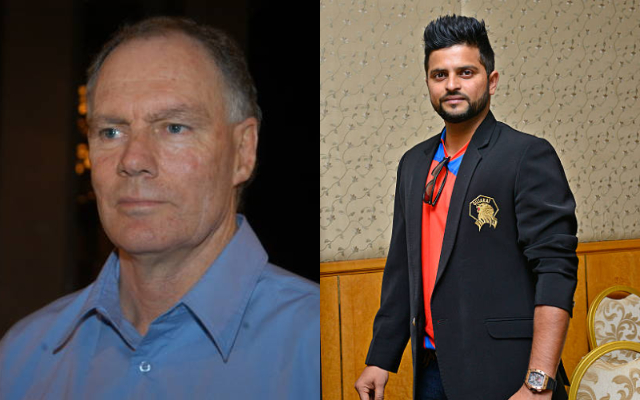 Follow us on Telegram
The Greg Chappell era in the Indian Cricket is not remembered very fondly for the controversies that happened during that period. Ever since he became India's head coach in May 2005 with an eye on the 2007 World Cup in the West Indies. But not many had expected what transpired in the Indian team. During this period though many youngsters flourished and one of them was Suresh Raina.
The left-hander made his international debut only in a couple of months after Chappell took over. In the same year, the differences between the then skipper Sourav Ganguly and the coach started to surface in the media. It ended up with Ganguly being sacked as skipper first and then from the team entirely.
The episode left the Indian cricket in uncertainty for a long time even as the southpaw made a stunning comeback soon. However, it didn't end well eventually as India ouster in the first round from World Cup 2007 ended Chappell's tenure with the team. When the former Australian cricketer was India's coach, Suresh Raina has thrown light on some of the matters in his book BELIEVE – What Life and Cricket Taught Me.
"Greg was always result-oriented, and he would make sure we achieved the results we were aiming for, no matter what. That was the kind of attitude I appreciated since I was just starting my career and was happy to be instructed," Raina wrote in his book.
Greg should've treated senior players a bit differently
Suresh Raina, contrary to many, has said that Greg Chappell was never wrong in his intentions to take the Indian cricket forward. However, he admits that the Australian could've treated the senior players in a better way. "The senior players of the team were very different, as were their respective equations with him. In hindsight, he probably should have treated the senior players a bit differently than how he treated us.
"In my eyes, Greg was never wrong, since he always strived to make sure the team was on its toes and never favoured any one player. Greg was ruthless when we lost, but most of it was directed towards the senior players. I do agree that he should have respected them more—people like Sachin and Dada," Raina further wrote.
While recalling his times in the Indian dressing room then, Suresh Raina admitted that there was tension in the dressing room during that period as not all got along with each other at all times.
Follow us on Google News