'Happens only in India' – Twitter hilariously responds as a fan touches Quinton de Kock's feet in Ranchi
Quinton de Kock was in for a shock of his life, when a fan in the Ranchi Test came to him and touched his feet.
Updated - Oct 21, 2019 2:32 pm
36.4K Views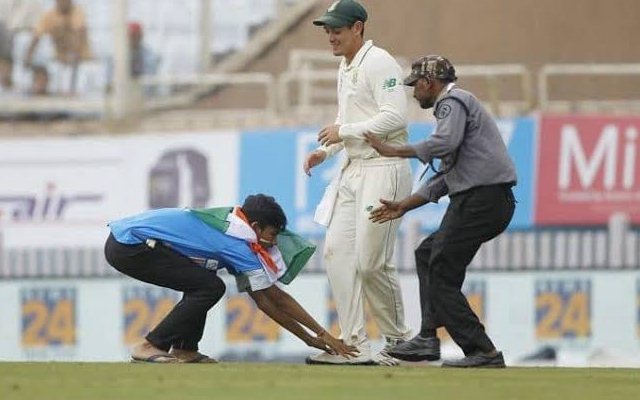 Follow us on Google News
Things are getting out of hand when it comes to security breaches in Indian cricket grounds. It has become a fad of sorts amongst the youngsters to make way into the ground during the match in progress and run to a particular player, their favorite one and requests a hug, touch their feet or better, take a selfie.
This came to forth when MS Dhoni decided to step down as captain and a person broke the barrier to touch his feet in a practice match, his last one as India captain in India. Since then, Dhoni has become the favorite of fans who have breached security to take a selfie or touch his feet, Dhoni even had some fun with one of the fans, making him run after him before obliging him with a hug during one ODI match.
Even during ongoing India vs South Africa Test series, a fan came into the ground to click a selfie with Virat Kohli, and while it is all hunky-dory for Indian cricketers, who are used to this, Quinton de Kock, the South African wicketkeeper-batsman was in for a shock of his life, when a fan in the Ranchi Test came to him and touched his feet.
A bemused De Kock managed to laugh and even reciprocated to the fan with a hug. Then some security people swarmed on him and dragged the fan off the field, with De Kock retrieving the fan's footwear for him as well, much to the amusement of the fans in the ground and ones watching on TV screens. Watch the video fo the incident below.
Here are the reactions from fans on Twitter to the bizarre interaction between Quinton de Kock and the fan:
Bizarre scenes: A fan runs onto the field and hugs Quinton de Kock, even touches his feet. The security guards tackle him down but it seems the fan forgot his slipper on the way back. Never mind, Quinty says, as he returns it. @sportstarweb

— Ayan (@ayan_acharya13) October 19, 2019
An Indian fan came on the field & touched Quinton de Kock's feet. De Kock's reaction was priceless. #INDvsSA pic.twitter.com/VG4QZVaKlO

— Hit wicket (@KetanPatil77) October 21, 2019
A Quinton De Kock fan invaded into the ground in Ranchi, touched his feet, then eventually gets thrashed by security agents.

These Things only happens in India !#INDvsSA pic.twitter.com/hNnqjAyP8z

— Sachin C G (@Sachincg6) October 20, 2019
This fan wasn't taking QDK's blessing, he was apologizing for inviting his team and humiliating them.#INDvsSA pic.twitter.com/KXHuJK4LyB

— Tabrez (@its_tabrez__) October 21, 2019
— Karthik (@reply2karthik) October 21, 2019
QDK has Fans in INDIA 🔥🔥🔥#INDvSA

— Sharukh (@sharukhMSD) October 20, 2019
QDK couldn't believe what was happening as a fan touches his feet. pic.twitter.com/6M6et7ZUWJ

— Sai Kishore (@SaiKishore537) October 21, 2019
Quinton de Kock can't believe he has fans too. pic.twitter.com/cnsqv3uIeS

— Shubham (@Shubham22605990) October 21, 2019
Pic 1 – When she says, I love you
Pic 2 – But, as a friend#INDvsSA pic.twitter.com/gyJgYnwjmy

— Hit wicket (@KetanPatil77) October 21, 2019
Meanwhile, South Africa's misfortunes continued in this Test as well as they were bowled out 162 in the first innings in reply to India's 497/9d. Zubayr Hamza made 62, while Temba Bavuma (32) and Geroge Linde (37) were the other main contributors for the Proteas. Umesh Yadav was the pick of Indian bowlers with figures of 3/40, while debutant Shabaz Nadeem picked 2/22. Ravindra Jadeja and Mohammad Shami also scalped two wickets each. Virat Kohli forced the follow-on and asked Proteas to bat again.
Follow us on Telegram