'Happy to go without me' – Sourav Ganguly roasted by daughter Sana on social media
Sana has trolled her father even earlier.
Updated - Feb 7, 2020 5:09 pm
3.1K Views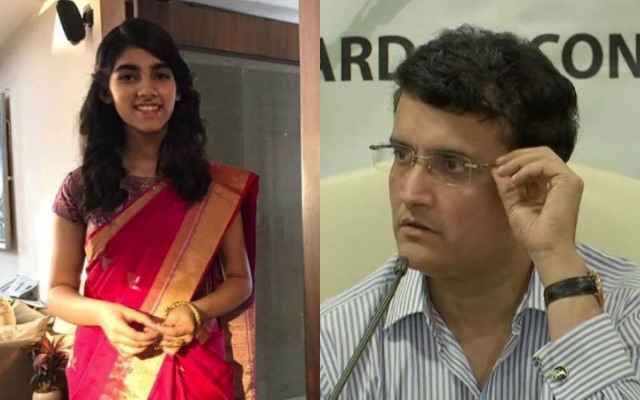 Sourav Ganguly, the president of the BCCI, share a healthy camaraderie with his daughter Sana. Ganguly, who's also a former Indian captain, has also been protective of his 18-year-old daughter. Back in December 2019 when the protests surrounding the Citizenship Amendment Act (CAA), came to the fore, Sana seemed to have gotten tangled into an unwanted controversy.
She posted an excerpt from Khushwant Singh's book 'The End of India' on her Instagram stories. Soon after, the post made the headlines, more so owing to the ruckus in the country following the decision by the Indian government. The 47-year-old Ganguly then came out in support of his daughter and requested the netizens to keep Sana out of any sort of controversy.
Ganguly said that his daughter is too young to know anything about politics. The duo has also shared some healthy conversations on the social media platforms, depicting the respect they have for each other. Back in December, Ganguly shared a picture of him working hard on Sundays. But Sana reverted to him, saying, "Guess who's not working and in bed till 12, Way to go dad".
Sana Ganguly at it again
Of late, there has been another incident where Sana trolled the veteran Indian cricketer. Ganguly uploaded a picture where he can be seen, sitting in a flight. He captioned the picture and wrote, "Another destination".
Sana didn't leave any stone unturned in roasting his beloved. Sana replied to his father on the Instagram post and wrote, "The one which you are very happy to go without me,"
Here is the screenshot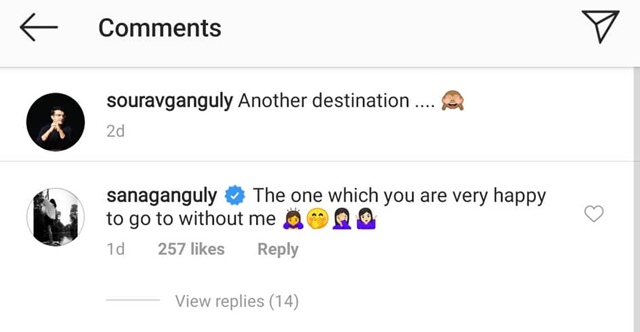 Even as Ganguly is serving as the BCCI president, his elder brother Snehasish has become the new joint secretary of the Cricket Association of Bengal (CAB). Meanwhile, Avishek Dalmiya, the son of Late Jagmohan Dalmiya, became the youngest CAB president at the age of 38. He was elected unopposed and Dada along with daughter Sana came to wish Avishek.
The CAB president's post was left vacant after Ganguly took over as the BCCI president. After Ganguly's election, he has brought forth a number of changes. In November 2019, India played its maiden Day-Night Test at the Eden Gardens. The 2020 IPL will also witness an All-Stars game.