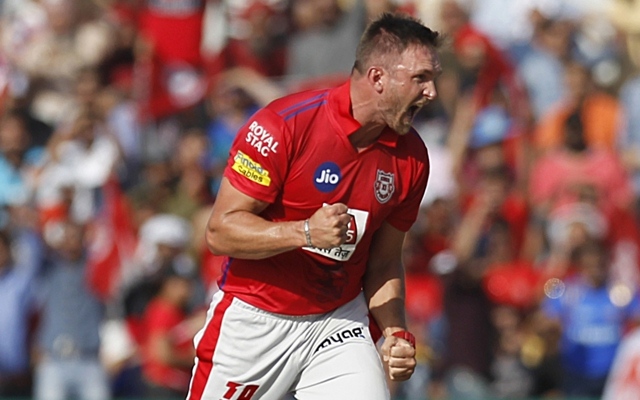 Messing with cricketers on Twitter is fast becoming too risky for the fans. Unlike the past, the cricketers are now making sure to take note of disrespectful tweets and replying it to them. Recently, Jaydev Unadkat came up with a classy reply after being abused by an individual on Twitter. The latest cricketer to face a similar situation is South African pacer Hardus Viljoen.
It started when a fan named Rahul took to Twitter to give his opinion on Viljoen the pacer. The man, who is seemingly a fan of IPL outfit Kings XI Punjab, stated that Viljoen is not that good. He went on to say that Kings XI Punjab need a solid T20 bowler in yet another dig at Viljoen. The South African had played for Kings XI Punjab in the last IPL.
He had a decent outing in his maiden IPL appearance. The right-arm pacer, who was picked up for INR 75 lakhs, played six games and picked up seven wickets. However, the fan was not impressed with Viljoen's performance and made it clear on Twitter. What followed thereafter left the fan red-faced.
Viljoen came across the tweet and liked it. Embarrassed with his tweet, the fan quickly put up an apology on Twitter and also clarified his comment, writing, "Hardus Viljeon Liked me reply where I am saying he's not that good dk how to feel about it. What I meant was we need one genuine quick in the attack, but would love to see you @Hardus_Vilj you continue at @lionsdenkxip as he's a decent T20 medium pace specialist"
Viljoen, however, was having none of it and he made sure to embarrass the fan further. He posted a screenshot where his speeds could be seen to take a dig at the fan.
Fan apologizes
The fan was clearly embarrassed with his action and he once again apologized to Viljoen. Hoping to see the Proteas star playing for Kings XI next year, he wrote, "Hardus sorry for being an ignorant fool bro, I take whatever i said back hope to see you in @lionsdenkxip colours next season, with you, Tye, Shami & Curran firing it in, hopefully we'll make it to the playoffs. Good day Champ @Hardus_Vilj"