Harmanpreet Kaur regrets about the nine runs India couldn't make
Harmanpreet Kaur ignored messages from Diana Edulji.
Updated - Aug 13, 2017 5:12 pm
2.2K Views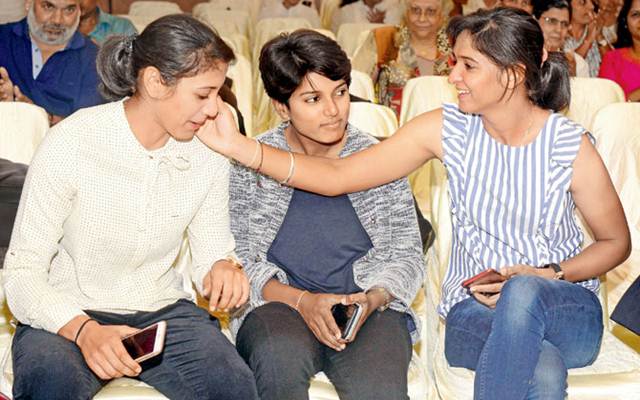 Indian Women's team batting sensation, Harmanpreet Kaur, recently expressed that the entire squad regrets about the nine runs which India could not make as she became emotional during the felicitation ceremony organised by the Mumbai Cricket Association at the Garware Club House on Saturday. She also revealed the role of CoA member Diana Edulji in providing her with confidence during tough times.
Before her match winning knock of 171*, Harmanpreet Kaur was going through a dry spell with the bat as she could only manage 77 runs in the six games. Kaur stated that she was in constant touch with Diana Edulji, who wanted runs from the Punjab Powerhouse. She then disclosed that the entire team discuss and feel sad, regretting about the nine runs they could not make.
"Before our match against New Zealand, Diana madam sent me a text message, asking me why I'm in England and what I'm doing in the team. Firstly, there were all sorts of thoughts running through my mind and to top it all, this message arrived. I didn't reply to her for the next two days," commented Kaur according to Mid-Day.
Harmanpreet Kaur ignored messages from Diana Edulji
"She then messaged again and asked, 'You are not replying?' I finally replied, saying 'Wait, we are coming with the Cup'. She replied: 'Firstly, I need your fifty.' I scored half-century against New Zealand in that match," added Harmanpreet pointing out the motivation provided by the CoA member.
Before our semi-final against Australia, Diana madam asked me, 'What now?' I told her, I am focusing on the Cup and I am not bothered about my game, but I will do my best. When I scored an unbeaten 171 in the next innings, she congratulated me by saying 'I am very happy'," added the Punjab powerhouse.
Kaur and the squad regret about the 9 runs they could not make
"Even at that time, I didn't reply, because I was thinking only about winning the final. Now, whenever we attend such felicitation functions, we all do a rewind and question ourselves why we couldn't score those nine runs and that makes us feel sad. I wish I could score those nine runs," concluded Harmanpreet Kaur