'He has a lot of attitude' – When Shahid Afridi talked about Gautam Gambhir, Sachin Tendulkar and Virender Sehwag
"In a jungle, there's one lion. The other one is a lioness, or perhaps, a cub," Afridi on his rivalry with Irfan Pathan.
Updated - Apr 17, 2020 2:25 pm
49.4K Views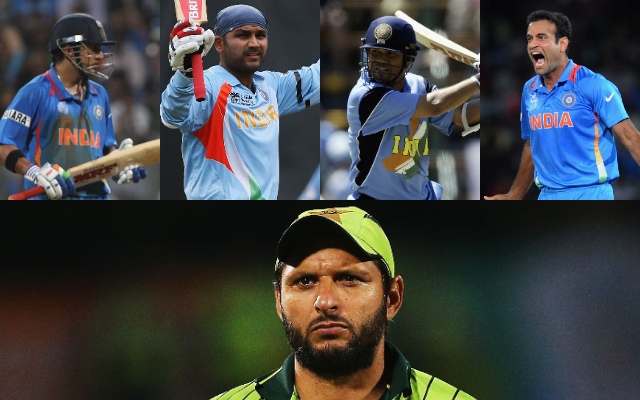 Follow us on Telegram
Shahid Afridi, the veteran Pakistan all-rounder, has been playing since 1996 and has rubbed shoulders with Indian cricketers from different generations. The Khyber Agency-born has been a witness to the ups and downs in cricket between India and Pakistan. He reckoned that the equations have changed over the years because 'politics has seeped in everywhere'.
In his memoir, Gamechanger, Afridi had pretty mixed opinions about his Indian counterparts. He said that Sachin Tendulkar was the only proper Indian batsman during the early stages of his career after which the likes of Rahul Dravid and Sourav Ganguly arrived.
Afridi also remembers how he smacked the 37-ball century against Sri Lanka in 1996 with Tendulkar's bat. Though he got the bat through Waqar Younis, Afridi didn't forget to acknowledge the Master Blaster. The ton remained as the fastest before Corey Anderson surpassed it.
"Sachin Tendulkar had given his favourite bat to Waqar Younis and asked for a favour…But guess what Waqar did before he took it to Sialkot? He gave it to me, before I went in to bat. So effectively, that first century in Nairobi by Shahid Afridi was made with Sachin Tendulkar's bat. Go figure," Afridi wrote.
Gambhir has attitude problem: Shahid Afridi
Afridi didn't back off from throwing in some stern words at Gautam Gambhir, the former Indian batsman. He said that the southpaw was 'barely a character' and had major attitude problems.
"(Gautam Gambhir) and his attitude problem. He, who has no personality. He, who is barely a character in the great scheme of cricket. He, who has no great records, just a lot of attitude. He, who behaves like he's a cross between Don Bradman and James Bond," the veteran stated.
Afridi also lashed out at Virender Sehwag for the latter's tweets about Pakistan on social media. "Look at Virender Sehwag. Look at the negative statements he makes on Twitter about Pakistan. Is that responsible behaviour?" he mentioned.
Afridi also went down the memory lane to the time when he invited the whole Indian team, led by Mohammad Azharuddin for dinner and partied together. Speaking about his rivalry with Virat Kohli, Afridi said that the current Indian skipper was peaking when the leg-spinner's bowling career was culminating.
About his rivalry with Irfan Pathan, Afridi wrote, "In my heyday, the rivalry with Irfan Pathan was instinctive. There can only be one Pathan on the field. In a jungle, there's one lion. The other one is a lioness, or perhaps, a cub."
Follow us on Google News