'He is a global icon' – Salman Butt defends Wasim Akram after his video speaking with Babar Azam goes viral
Wasim Akram had also issued a statement earlier after being criticised.
Updated - Feb 18, 2022 7:32 pm
1.1K Views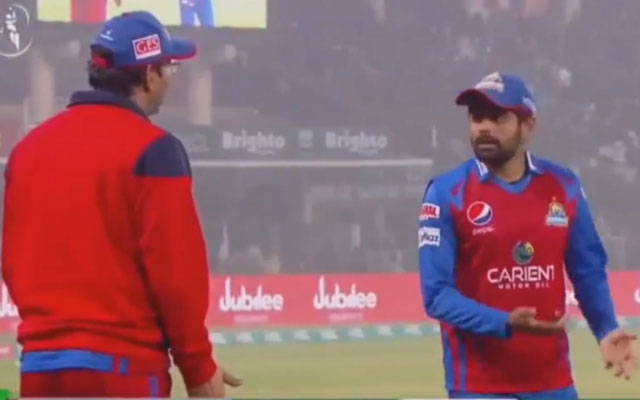 Follow us on Telegram
Frustration has increased in Karachi Kings' camp after losing eight games in a row. A recent viral clip from the ongoing Pakistan Super League 2022 has shown Karachi Kings mentor, Wasim Akram, allegedly losing his cool on their star batter and captain Babar Azam. The video shows Akram animated while trying to put across his point to Azam.
There have been varied opinions on the matter so far, with several voices in the Pakistani cricketing circles as well as the fans chipping in with their perspectives. Even Wasim Akram had to clear his stance with many slamming him for losing his cool on Babar Azam.
Meanwhile, Akram has found support from former Pakistan captain Salman Butt. Butt feels the former is being criticized unnecessarily as he does not lose his calm very often and it is the first time that he has shown any frustration.
"I am very surprised. When Mickey Arthur used to get angry or throw files here and there, people used to say, 'look, he's so concerned for the team'. Wasim bhai has lost 8 games. And for the first time, he got up and then too, he pointed out towards the bowler," Butt said on his official YouTube channel.
"It is most likely that he gave some instructions to the bowler and they didn't bowl accordingly. So he got up in anger and talked about it. Obviously, he can only say this to the captain, he can't shout towards the bowler from the dugout. So I don't know what people expect." he added.
Frustration was directed at bowlers and not captain, says Butt
As for Wasim Akram's statement, the legendary cricketer took to Twitter himself. He explained that he was only trying to put across a point as to why the bowlers were not bowling according to plans and the reactions came to him as a surprise. Butt also had a similar viewpoint stating the frustration was directed at the bowling and not specifically at the captain.
"If he had just been sitting there in the dugout, people would say that he doesn't care. When he showed concern, he's facing criticism as well. After losing 8 games, he spoke for the first time and people are talking about respect. It's Wasim Akram! He's a global icon, not just Pakistan's. If he says something to Babar and gets a little harsh, so what? He was talking about the bowler anyway, he even tweeted about it," said Butt.
The fact that Karachi Kings have lost all of their games in the tournament so far could justify their mentor's frustration. The team has been below par in all of the 8 games they have played so far, even though they are being led by arguably the best cricketer in the country.
Even though the team has already been knocked out of this year's PSL, they would still want to try out their bench strength in the remaining two games hoping to discover some sort of positives before their season concludes.
Follow us on Google News