'He is economical, a player like Chahal complements him' – Sanjay Manjrekar on Ravi Ashwin's place in Indian T20I squad
Ashwin's future in T20Is is up in the air as there are a lot of options for team India.
Updated - Aug 5, 2022 5:47 pm
619 Views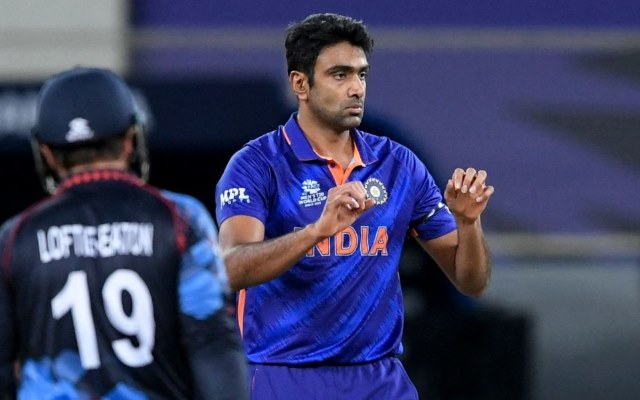 Follow us on Google News
Despite being economical in T20 cricket, Ravichandran Ashwin wasn't in the scheme of things to get into the Indian T20I squad till last year. However, keeping in mind how good he is against left-handed batters, the team management called him up for the T20 World Cup 2021. The off-spinner was pretty average and the fans were convinced that his time in the T20I stint was over.
Things, however, changed when the 35-year-old was called up for the West Indies series. A certain section of the fans found it weird to see him feature in the squad as spinners like Kuldeep Yadav, Axar Patel, Ravindra Jadeja and Ravi Bishnoi are already part of it. Again, his advantage against the left-handers played a part in his call-up.
Now, it's tough for fans to understand the BCCI's plans with the off-spinner. Notably, his recent performance in the West Indies was pretty impressive. Giving his take on Ashwin's place in the T20I team, former India international Sanjay Manjrekar believes that he can be dangerous if paired with a wicket-taker like Yuzvendra Chahal.
While speaking to SPORTS18's daily sports news show 'SPORTS OVER THE TOP', Manjrekar said,"I like Ashwin when he's with somebody like Chahal. So, the onus is not on Ashwin to change the tide." The 57-year-old added,"He focused a lot on the economy, but when you have somebody like Chahal, or if there's another wicket-taking wrist spinner, then Ashwin becomes a great compliment because Ashwin has mastered the art of being economical in T20 cricket. In the first T20, a couple of wickets was a great sign, but that's what you'll get with Ashwin, that compliment to the other main wicket-taking spinner in the team."
At this moment, Ashwin's future is up in the air as there are a lot of options for Team India. Rohit Sharma, the captain of the squad, however, is giving Ashwin chances to perform. If he manages to live up to the expectation, Ashwin can once again be a regular in T20I cricket.
Sanjay Manjrekar believes that time is over for KulCha in T20Is
Kuldeep Yadav and Yuzvendra Chahal are one of the most destructive spin duos that the cricketing world has ever seen. Despite their individual success in the IPL, Manjrekar believes that the duo is unlikely to play together for India in T20Is.
"I don't think that combination will be ever employed by India. At least in T20 cricket where you have Chahal and Kuldeep Yadav both playing together as two spinners. Either it'll be Axar Patel or Chahal or it'll be Ashwin or Chahal. If Chahal is unfit, then they might just play Kuldeep Yadav as a gamble in one of the games. I don't see Chahal and Kuldeep getting reunited, maybe in 50-overs cricket they would," Manjrekar said.
After a couple of very poor seasons, Kuldeep picked up 21 wickets for Delhi Capitals in IPL 2022. Chahal, on the other hand, won the Purple Cap with 27 scalps under his belt. Individually, the spin wizards were brilliant but the future of KulCha as a pair is indeed in doubt. 
Follow us on Telegram