'He needs to get a diploma in DRS' – Tim Paine trolled after poor DRS challenge against Mayank Agarwal
Paine has been in the centre of controversy in the ongoing Border Gavaskar Trophy.
Updated - Jan 17, 2021 10:42 am
4K Views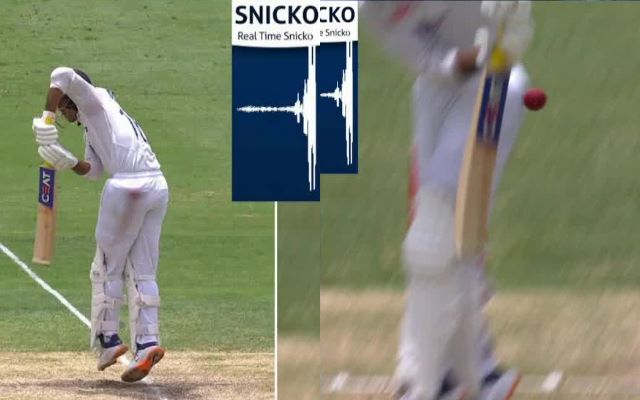 Tim Paine, the Australian skipper, has been a recipient of severe backlash during the ongoing Border Gavaskar Trophy. The 36-year-old has led the Aussies Test team for nearly three years now and his on-field behaviour has been questioned a few times. In the third Test at the Sydney Cricket Ground, he got himself tangled in a controversy with Ravi Ashwin during the fifth day's play.
At a time when the Aussies were desperate to get rid of Hanuma Vihari and Ashwin, Paine resorted to sledging the latter. He even used abusive terms, a step that didn't go down well with a number of experts. Veteran England fast bowler Stuart Broad said that Paine shouldn't be getting away after the language he used. Paine later admitted that he got carried away in the heat of the moment.
Later Greg Chappell, in a column, stated how Paine needs to show a bit of character when put under extreme pressure. The legendary batsman said that a captain's role comes with a massive responsibility. In the meantime, amidst all the backlash and criticism, Paine has again come under fire, this time in the fourth and final Test against India at The Gabba in Brisbane.
Tim Paine faces the heat yet again
During the third day's play of the current Test, Paine resorted to using the DRS against Mayank Agarwal, who made his comeback after missing the Sydney Test. In the 49th over of the innings, Pat Cummins bowled one down the leg side and the batsman missed the flick shot. The Australian fielders appealed in unison, but umpire Paul Wilson didn't raise his finger.
Paine decided to send the decision upstairs, confident that Agarwal had touched the ball with his bat. Replays showed that the leather brushed the batter's thigh pad on its way to the keeper. The ball was nowhere near Agarwal's bat. Hence the on-field decision stayed and Australia lost a review.
Agarwal, in the end, got out to Josh Hazlewood after scoring 38 runs off 75 balls with three fours and one six. In the meantime, Twitterati again took a dig at Paine for his decision to take the DRS.
Here's how the netizens reacted:
Paine makes Watson look like Einstein when it comes to the DRS #AUSvIND

— StePHen (@TweetingSteve) January 17, 2021
Does Tim Paine realise you only use DRS when the onfield decision is wrong?

— Dennis Rahane (@DennisCricket_) January 17, 2021
Fleming on Tim Paine: "He needs to get a diploma in DRS."#AUSvIND

— SEN 1116 (@1116sen) January 17, 2021
Shane Watson or Tim Paine… Who would be the official world number one in burning DRS reviews 🧐#AUSvIND #INDvsAUS

— Sridhar_FlashCric (@SridharBhamidi) January 17, 2021
Shane Watson watching Tim Paine burn through DRS reviews unnecessarily like..#AUSvIND pic.twitter.com/rhBoEhvNcp

— Matt Back (@MattNotFront) January 17, 2021
DRS is Crush Who never replies to Paine 😛😂😂😂 #INDvAUS #AUSvsIND https://t.co/m3eCN5W3MA

— Sandeep Chaudhary (@sandyhimachal) January 17, 2021
Paine should be banned from calling drs on any legside catch. Was SO certain of that one.

— Neilhoh (@Neilhoh) January 17, 2021
Paine shouldn't be allowed to have anything to do with the DRS.

— Lindsay Bordas (@Herbie_planeguy) January 17, 2021
Pushing for a series win and Paine has set a conservative field, causing three nicks to fly through vacant slip spots already. Plus another classic Paine DRS fail. He's gotta go. #AUSvsIND

— Luke Whito (@LukeWhito) January 17, 2021
Is Michael Clarke paying Tim Paine to use DRS even worse than he did? #AUSvIND

— Shane Thomas (@tokenbg) January 17, 2021
Results:
DRS vs Tim Paine
TKO Round 1.

— Burly Richmondite (@Ambiguous_Andy) January 17, 2021
Paine is just awful with DRS.#AUSvsIND

— Kimmy Jimmel (@Francis_HR90) January 17, 2021
Imagine a world where Paine and Watto were utilising DRS together https://t.co/dkK8qPYQRh

— Social Kristancing (@DesignedToFade) January 17, 2021
Tim Paine should not be allowed to make review decisions.

We should have a specialist DRS decision maker who ignores whatever Paine thinks.#AUSvIND

— 3k (@3kcricket) January 17, 2021
How bad is Tim Paine at DRS hahaha 😝 #AUSvsIND it is comical

— Tha Chazer 🧢 (@Fredthedagg) January 17, 2021