Heather Knight learns some Hindi from her Indian teammate Smriti Mandhana
Both combined for a partnership of 80 runs from just 47 balls as the Western Storm won the game with more than four overs to spare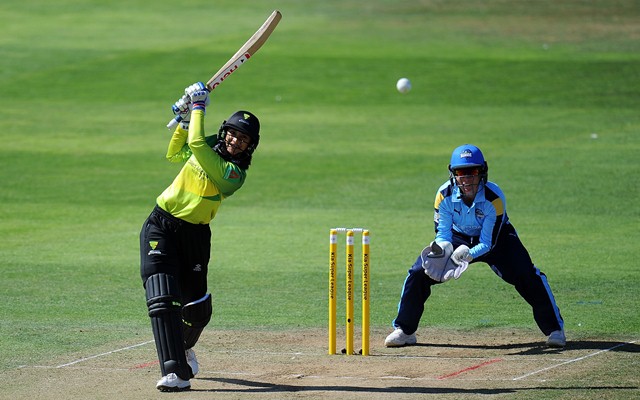 The ongoing Women Cricket Super League has been in full swing. Chasing 163 for victory,  Western Storm lost Rachel Priest on the very first ball. That's when Indian cricketer Smriti Mandhana and skipper Heather Knight put up a fantastic display with the bat. Smriti smashed five sixes in her 48(20) while Knight took the Storms to victory scoring 97(62)*.
Both combined for a partnership of 80 runs from just 47 balls before Mandhana got out to Alice Richards. Knight took the charge from there on as the Western Storm won the game with more than four overs to spare. Speaking after the game, Heather Knight shared about how she was taught Hindi by her Indian partner Smriti.
'I asked her to tell me what yes was in Hindi'
Heather Knight led England to World Cup victory last year. She described her experience batting with Smriti in the middle. Knight remarked that she learnt how to say yes or no in Hindi. She further asserted that it was her blazing start that set the tone for the chase.
"She was struggling to call in English, so I asked her to tell me what 'yes' was in Hindi. I'm not sure I'll be wanting to do it regularly. But if I can learn 'yes' and 'no' in Hindi and help Smriti bat there in the middle – because she got off to a great start for us – then that's great! It's one of the great things about T20, You get to play with different people from around the world and work out how they play their cricket." She was quoted as saying by ICC.
Playing alongside Heather Knight was fun  
Smriti Mandhana remarked that since they had always played against each other, it was fun playing for the same team. She found it hard to communicate while running as she was used to using "haan" which is the Hindi word for Yes. However, Knight was more than happy to continue conversing yes and no in Hindi.
"I've always played against her, so playing alongside her was fun. It was a bit hard for me to call out in English because we are used to calling out in Hindi, so I was telling her 'haan' is yes. So she was like, 'Don't worry, I'll run for that!' It makes us a better player. Learning from experiences we'll all grow together."
Stay updated on 'today's cricket news' with CricTracker.com.