'Heaven lies under her feet' – Cricketers express their love for mother on Mother's Day
A lot of cricketers wished and thanked their mother for their untiring efforts.
Updated - May 10, 2020 3:48 pm
758 Views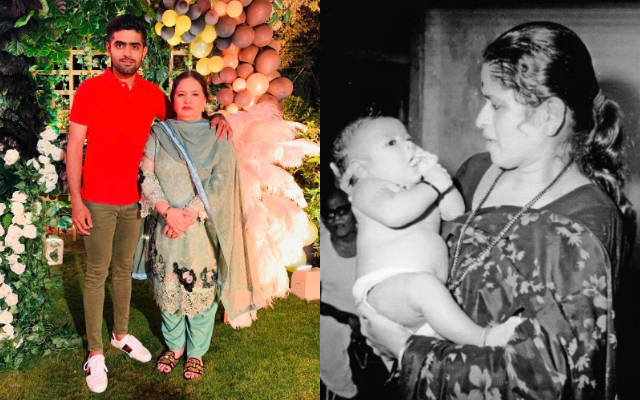 Follow us on Telegram
The cricketing calendar is in shambles due to the ongoing pandemic which has taken more than 2.75 lakh lives across the world. This has led to almost all the cricketers resorting to social media during this lockdown period. Rather some of them going live on Instagram with their fellow teammates and counterparts to entertain and engage the fans in these tough times.
The world is celebrating Mother's Day on Sunday and social media, as expected, is filled with the wishes for the same. Even the cricketing fraternity was at the forefront in wishing and thanking Mother's day for their untiring efforts towards their families. A lot of cricketers also posted their adorable picture with their mother while also writing an emotional message thanking them on this special day.
Sachin, Virat, Babar among many cricketers to wish Mother's Day
Among the first cricketers to take to Twitter was the legendary Sachin Tendulkar who felt his mother is irreplaceable. He also posted of his mother holding the baby Sachin in her arms. "You are AAI to me because, besides everything else you are Always Amazing & Irreplaceable. Thank you for everything you have done for me. Happy #MothersDay Aai," his tweet read.
Meanwhile, Pakistan cricketer and the current T20I captain Babar Azam reminisced a heartwarming story while thanking his mother for standing by him throughout his life. He recalled the time when he bought his first ever bat for PKR 1500 and his mother had given him all the money from her savings.
"The first bat I purchased was of 1500 PKR. This was your entire saving but you gave it to me. You believed in me when others didn't. Every inch of mine is indebted to you. I love you so much. Plz regard your mothers. Heaven lies under her feet. #MothersDay #RiseandRise," his tweet read.
On the other hand, some of the players preferred to only put up a picture of them with their mother and express their feelings while a few like Virender Sehwag also delivered their message with a video.
Here are some of the cricketers' tweets:
Happy mother's day ❤️❤️ pic.twitter.com/DWsZLcYJFe

— Virat Kohli (@imVkohli) May 10, 2020
Thank you for laughing with us at the best of times and sticking with us through the worst of times. What would we do without you?

All that I am, or ever hope to be, I owe it to my mother.

Happy mother's day #HappyMothersDay pic.twitter.com/Zyz1FHWs1S

— Mayank Agarwal (@mayankcricket) May 10, 2020
No love in the world is greater than the Mother's love..!! ❤️ #HappyMothersDay 🤗 pic.twitter.com/2tiforrKrQ

— Yuzvendra Chahal (@yuzi_chahal) May 10, 2020
"चलती फिरती हुई आँखों से अज़ान देखी है,
मैंने जन्नत तो नहीं देखी, माँ देखी है"

Mothers are God's very own manifestation on earth #MothersDay pic.twitter.com/kYSjZRsV26

— Mohammad Kaif (@MohammadKaif) May 10, 2020
You are AAI to me because, besides everything else you are Always Amazing & Irreplaceable.
Thank you for everything you have done for me. 🙏

Happy #MothersDay Aai. pic.twitter.com/UVQeMMmRjX

— Sachin Tendulkar (@sachin_rt) May 10, 2020
Mama Ji,

The first bat I purchased was of 1500 PKR. This was your entire saving but you gave it to me. You believed in me when others didn't. Every inch of mine is indebted to you. I love you so much.

Plz regard your mothers. Heaven lies under her feet. #MothersDay #RiseAndRise pic.twitter.com/ZntIgW9a9m

— Babar Azam (@babarazam258) May 9, 2020
Internet might have the answers to most of the things, but there are some which only your mom knows❤️
Everyday is Mother's Day. pic.twitter.com/1WLfgyszHH

— Shubman Gill (@RealShubmanGill) May 10, 2020
Whenever I look at you as a mother, I look at the purest love and care you have for Aditi ❤️ #HappyMothersDay pic.twitter.com/DGLpDHvxXw

— cheteshwar pujara (@cheteshwar1) May 10, 2020
You're my favourite person in the world mummy . Thank you for loving me so selflessly and teaching me important life lessons , including the one that while we tread on the path of success, we must walk with dignity and a sound moral compass. #HappyMothersDay #Inspiration pic.twitter.com/HM1pObMKpP

— Mithali Raj (@M_Raj03) May 10, 2020
Happy Mother's Day Mom❤️ pic.twitter.com/sG6MGYT8Bu

— Jasprit Bumrah (@Jaspritbumrah93) May 10, 2020
Happy Mother's Day to my mom and my wife @prithinarayanan , after seeing the wifey with my kids I have come to realise how my mom feels about me a step better than before. Happy Mother's Day to all the lovely mums out there. 🙏 #HappyMothersDay pic.twitter.com/RjIPPMOdJI

— lets stay indoors India 🇮🇳 (@ashwinravi99) May 10, 2020
Every day is mother's day!
Dear maa, you make my world shine brighter every single day! Wishing you a very Happy Mother's Day! ❤️
To all the mother's out there, you deserve all the happiness and love in the world!!
🙏❤️ #motherday2020 #Mothersday pic.twitter.com/1tcImSmLqn

— Ishant Sharma (@ImIshant) May 10, 2020
Wishing that this special day unfolds many joys & happy moments for you to cherish.#HappyMothersDay pic.twitter.com/fiCODKXnoh

— Ahmad Shahzad 🇵🇰 (@iamAhmadshahzad) May 10, 2020
Happy Mother's Day Maa ♥️ pic.twitter.com/0bRho7nT5z

— Kuldeep yadav (@imkuldeep18) May 10, 2020
Happy Mother's Day ❤️ Love you maa 🤗 pic.twitter.com/AHV7PN6lR1

— Shikhar Dhawan (@SDhawan25) May 10, 2020
Those who say there's no God don't realise that SHE was there all along! Happy #MothersDay! pic.twitter.com/G31q0oCavN

— Gautam Gambhir (@GautamGambhir) May 10, 2020
Happy Mother's Day Ma , love you ❤️ pic.twitter.com/1yVnv9ybID

— K L Rahul (@klrahul11) May 10, 2020
A mother's love is a love you get, whether you deserve it or not. Maa jaisa koi nahi.
Every day is #MothersDay pic.twitter.com/eXIiMTRlsL

— Virender Sehwag (@virendersehwag) May 10, 2020
Follow us on Google News