Here is all you need to know about Borgo Finocchieto: Wedding venue of Virat and Anushka
Virat Kohli and Anushka Sharma got married on December 11, 2017.
Get every cricket updates! Follow us on
Team India skipper Virat Kohli and Bollywood diva Anushka Sharma recently got hitched in Milan, Italy. The destination wedding has given some serious relationship goals to many. The wedding ceremony took place at the Borgo Finocchieto, in Italy. Very little was known about this lavish villa until yesterday night for many fans.
But now that the power couple got married at the venue, the google searches about the same are bound to soar high. Borgo Finocchieto is situated in Tuscany. It is a very old resorted villa – the reports in CNTraveller cite it to be 800 years old. It has some tranquil valleys all around the resort. There are a lot of tourist attractions in and around the Borgo.
The tourist favorite destinations near Borgo Finocchieto are Siena and Florence. Borgo is not a place which can be termed very inaccessible. It is a beautiful venue that gives the feeling of being in the medieval Italy. There are five villas at the location – namely, Finocchieto, Colussi, Filippi, Santa Teresa and Fede.
All these villas are unique in themselves and can cater to the various needs of the visitors. However, the big catch is, only 44 people can occupy the entire space at a time. This gives the personalised services and ensures the privacy of the tourists visiting the place.
Food and wine
Borgo Finocchieto offers some of the finest cuisines and lavish buffet meals. The dinner is served in three courses. This includes the traditional Tuscan specialities with a pinch of modernization. The best of the Italian wines – named Chianti Classico from the north, Montalcino from the southwest, and Montpulciano from the southeast are served to the guests.
Hiking, sports, and a lot more
In addition to these, the traditional sport of Bocce can be played at the venue. The golf courses and the cobble-stoned town of Buonconvento combined with the hiking destinations nearby only make it all the way more delightful. The visitors can also take hot air balloon rides from the venue.
Costs
Talking about the much-fancied topic – the costs of staying at the resort – Borgo is the second costliest resort in the world as on December 2017. As per the reports in India TV, the cost varies from INR 650000 to INR 1400000 per night. Staying at the resort for a week would easily amount up to INR 1 crore.
Here are some of the pictures of the villa:
The lavish living room for the guests at the villa.
The beautiful interiors of the living room.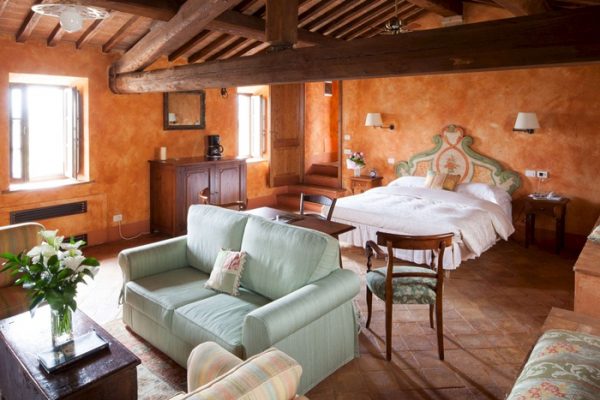 A stunning view of the villa surrounded by vast green meadows.