How I feel as a fan now that Virat Kohli is married
A bittersweet happiness would probably be the best phrase to describe how most fans of Virat and Anushka feel at this moment.
Updated - Feb 14, 2018 6:36 pm
185 Views
Follow us on Google News
Pick up your phone and take a look at any social networking platform that you follow: Yes, it's all flooded with the gorgeous pictures of the newlyweds. Such frenzy is justified when two of the most popular people in their own fields get married and this is Virat Kohli and Anushka Sharma we're talking about! After months of speculation, the power couple finally tied the knot and circled around the blazing embers on Monday, far away from prying eyes.
Current Indian captain and prolific batsman, Virat Kohli had first met Hindi Film industry's heartthrob, Anushka Sharma back in 2013 while shooting for a shampoo commercial. From there on, it was a magical love story that unfolded, leaving the entire world gushing. From standing up for each other to posing for the shutterbugs hand-in-hand, the 'Virushka' partnership gave onlookers serious couple goals.
They got married in an intimate ceremony, attended by close friends and family at a picturesque vineyard in Tuscany, Italy yesterday. It was only in the late hours of the evening that the couple took to the micro-blogging site, Twitter to post some adorable pictures from the wedding ceremony, accompanied by beautifully penned vows from the two, reinforcing that the match was made nowhere but in heaven.
Virushka's marriage, through the eyes of a fan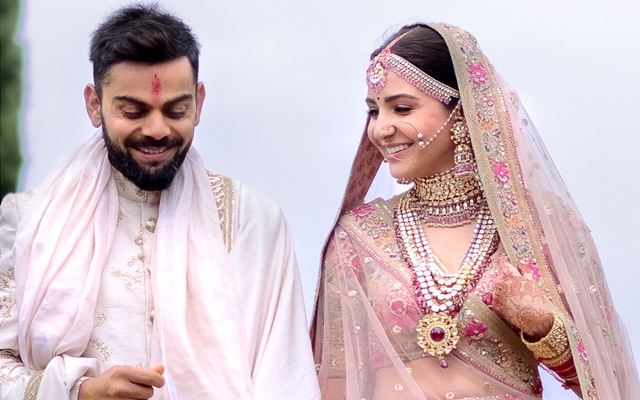 As ardent fans who'd been following the couple's journey with wide-eyed wonder from Day 1 itself, an inexplicable concoction of emotions is coursing through us right now. A bittersweet happiness would probably be the best phrase to describe how most fans of Virat and Anushka feel at this moment. We're happy for the couple, so happy, yet we're a little heartbroken too.
The two of them have made us realise that fairy tales do exist in the otherwise bleak, real life. They've made us believe that love is something that has the power to overcome every obstacle and unite two hearts. The sight of the lovely couple laughing their hearts out and gazing at each other lovingly at the garland-exchange ceremony has given us couple goals like never before.
At the same time, there's this lingering clink of the broken pieces of our hearts in the background. The girls know they could've never ended up with Virat and the guys know they could've never gotten hitched to Anushka, but the heart wants what it wants! As we see the pictures, we can't help but go "I can't believe they're finally married", accompanied by a dull ache in our hearts.
It's a weird feeling of jealousy and happiness and sorrow, all jumbled up together. That's because two of our favourite people are finally together. There'll be no more speculations on when they'll tie the not or where they'll get hitched, no more rumours and no more dreamy expectations. Our favourites are finally each others and that's a big pill to swallow for fans as involved as us. But there's such an amazing journey for them to look forward to and we can't help but be childishly excited for the newlyweds.
Above everything, the feverish excitement and elation prevail. When a person who you hold so dear in your life is happy, you can't be but happy for him/her. Right from the moment when clad in India blues, Virat did not shy away from sending a flying kiss to Anushka in the stands, to the moment when Anushka hugged him at an award ceremony, right to the moment when Virat credited his ladylove for having made him a better man, the stunning duo makes our slightly-broken hearts swell with joy and pride.
It makes us believe in the power of love, it makes us believe in eternal happiness, it makes us dewy-eyed at the perfection of it all. Above all, it makes us happy to finally be able to wish the couple a lifetime of happiness and love, to wish that this rock-solid partnership may blossom into the best innings of their lives.
Follow us on Telegram