'He's proven it' – Shivnarine Chanderpaul considers Virat Kohli best batsman in the world
Chanderpaul also hoped that defending champions West Indies would put up an energetic show at the T20 World Cup scheduled in Australia.
Updated - Mar 22, 2020 5:28 pm
6.9K Views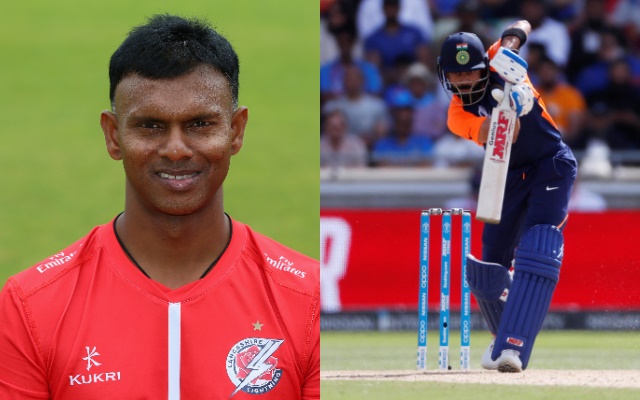 Shivnarine Chanderpaul was one of the most unattractive yet effective batsmen in world cricket during his playing days. Recently, the left-hander was in India to play in the Road Safety World Series 2020 but because of the coronavirus outbreak, the veterans' tournament got postponed. The former southpaw, who featured in a cricket match in the series in India after August 2018, made 61 off 41 balls in the first game against India though his team lost. In the second match against South Africa, he made 21.
Chanderpaul spoke on various matters during his stay in India and said India captain Virat Kohli is his favourite cricketer at present. Still an avid follower of the game, the 45-year-old even hailed the ace Indian batsman as the best in the world.
"Obviously, it's Virat Kohli. He has been working on all the aspects of his game, and the results are showing. He is working hard on his fitness; he works on his skills. You see him putting in the hard work, and he is one of those guys who always wants to do well. He's proven it, day in and day out. You have to give credit to him for that. It's not easy to stay at the top of your game for so long. You got to put in your work, and the results are showing," Chanderpaul told Sportstar.
Chanderpaul backs West Indies in T20 World Cup
Chanderpaul also hoped that defending champions West Indies would put up an energetic show at the T20 World Cup scheduled in Australia later this year. The Caribbeans have won the T20 World Cup twice, the most by any team so far.
"Well, West Indies have always had players for the shorter format. Yet again, it all depends on how well you perform on that day because, in the T20 format, anybody could win on that day. We always have a lot of match-winners, that's the good thing about us. With the power hitters, good bowlers — they play a major part in the shorter format. So, we still have one of the best T20 squads around. But we still have to go out and play well to win matches. Don't take anyone lightly, play as hard as we can, and we will win," the former cricketer said.
Chanderpaul was the most prominent name in the Caribbean batting line-up after the legendary Brian Lara during his playing days and finished very close to the latter in the list of the West Indies' all-time high scorers in the long format. In 164 Tests, Chanderpaul made 11,867 runs — a tally which is just 45 short of Lara's 11,912 in 130 matches. They are the only two batsmen who have more than 10,000 runs in Test cricket.
Chanderpaul, who played between 1994 and 2015, also featured in 268 ODIs and 22 T20Is and ended up with over 20,000 runs in international cricket and 41 hundreds.