Highest Partnership for each wicket in Test Cricket
India has been at the receiving end twice.
Updated - Jul 7, 2020 1:09 pm
7.8K Views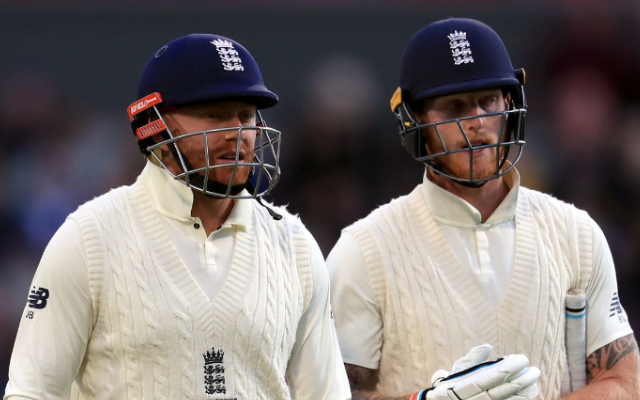 A partnership is an edifice on which a team stands. It might appear simple, but partnerships in cricket have diversity and nuances of their own. So the one on a sunny morning on a Rajkot-belter with two batsmen rhythmically milking runs is entirely different than the other on a green-top in overcast Johannesburg with the ball dancing around both the batsman. Adding 108 off just 99 in the first session of day two and adding just 26 off 185 in the last session of day five to save a Test. These are all 'partnerships' and yet so different!
A partnership is not just simply piling up runs for your team. It is about making compromises, understanding situations, deciding when to play and when to pause, when to defend and when to attack, whom to target and whom to respect, analyzing your strengths and weaknesses as well as that of your partner's, and a lot more. Building an individual inning takes a great deal of grit and labor, but as goes the saying- it takes two to tango, it takes a whole lot more to build a partnership.
In cricket, regardless of the format, batting is always done in a pair. However, in the hustle of individual performances, we invariably overlook the fact that cricket is a team game. Let's take a look at the highest partnerships for each wicket in the purest format of the game.
1. 1st wicket- 415 runs between Neil McKenzie and Graeme Smith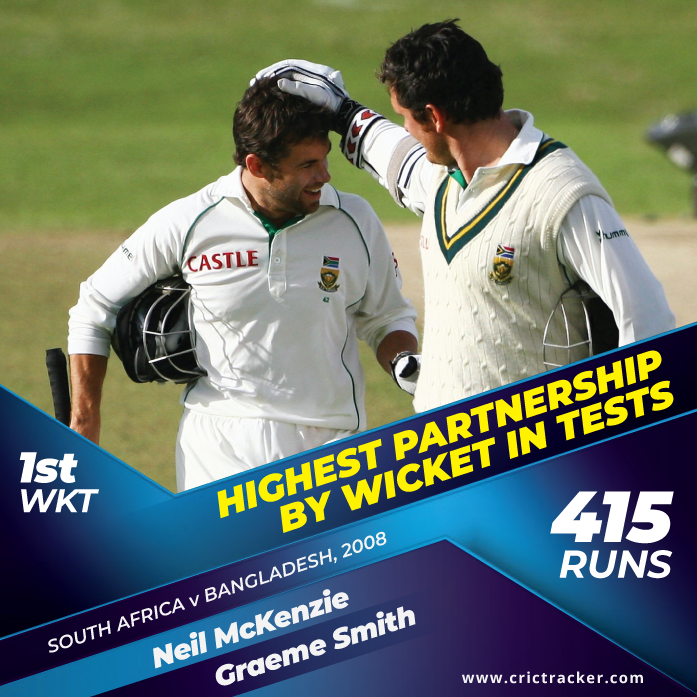 Date: 29th February 2008
Partners: Neil McKenzie (226); Graeme Smith (232)
Opponent: Bangladesh
Venue: Chittagong, Bangladesh
There's nothing more crucial than the opening partnership, they say. Is there a score more threatening than 100 for 0? Imagine what it would be like to look at 415 for 0! On a rare date, the South African openers stitched a partnership that gave a waiting-to-bat Hashim Amla pad blisters and rashes!
The year was 2008 and the last Neil McKenzie raised his bat after a century happened way back in 2001, so he ensured to make it count when he did this time. His partner Smith, let's just say he always loved making mammoth partnerships. The duo smothered a hapless Bangladeshi bowling line-up on what was a batting paradise in Chittagong. On Day 1, South Africa piled 405 runs- 9 short of the record stand of 413 set by Vinoo Mankad and Pankaj Roy in 1956.
The first session, second day, the last ball of the 92nd over, the 52-year-wait was over when Smith worked one past square leg for a single. The new world record- which stands to this day- was set. However, just a run later, Smith's 406-minute-long outing ended when Abdur Razzak cleaned him up and gave his team their first wicket after 94 overs of pure enervation. McKenzie batted for 518 minutes and faced 388 balls for his 226 before falling to Shahadat Hossain.
South Africa posted a massive 583/7 before declaring and bundling out Bangladesh for a paltry 259. Following-on, Bangladesh tottered once again as it managed only 119 and lost the match by an innings and 205 runs.