How the World Cup 2019 final's outcome could have been different?
Should Williamson have discussed the controversial overthrow with the umpires?
Updated - Jul 22, 2020 12:33 pm
468 Views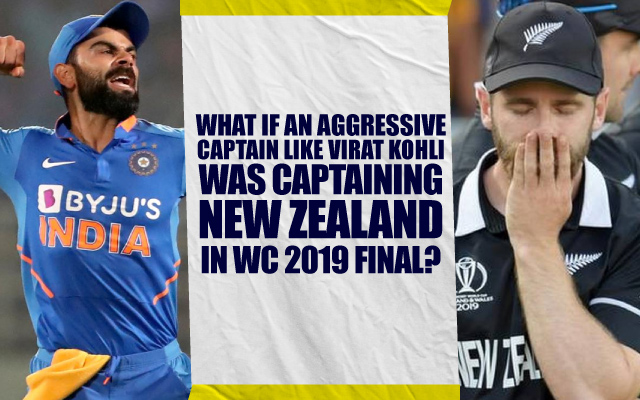 Aggression vs Calmness
The 2019 World Cup final was one which no cricket fan would forget for long. It was one of the most intense, competitive and maybe even unfair game according to some. But let's dig deeper and see how this actually happened and could it have been avoided.
Also while discussing this, I'll reveal why I've given the title aggression vs calmness. Let's fast-forward directly to the last over of England's innings. 15 runs required with Ben Stokes being the last recognised batsman for England. The first two balls bowled by Trent Boult were dots and it came down to 15 in 4. Stokes hit an amazing shot for a 6 off the next ball. 9 required in 3. This is where the drama begins. 
Stokes mistimes a hit and starts running for 2 as he needs to keep strike. While running for the second he dives in desperation to save his wicket. Who wouldn't do this considering the World Cup is on the line? However, when he dives the ball hits his bat and goes further away from the fielder and bashes into the boundary ropes. England are awarded 6 runs.
Kane Williamson silently accepts this without any great argument with the umpires. The next two balls are singles which leads the game to a super over. The super over also ends in a tie and England win on boundary count. Well an entire World Cup being decided on boundary count? Unfair isn't it? But here as well the New Zealand captain quietly accepts his team's fortune.
 Their dream of winning the World Cup was shattered. However, what followed was something which left the New Zealand fans devastated . The 6 runs awarded to Stokes and England due to overthrows were later revealed to be incorrect. They should've been awarded only 5 runs as they had not crossed when the ball was thrown as is the rule for overthrows. 
Brendon McCullum took to his Instagram to share his views on the final. "Heartbreaking. Never in our lives will we see a game as great as that again. Drama, emotion, skill and respect. Thank you Nz and thank you England. ❤️" he said.
Should Williamson have discussed the outcome of controversial overthrow?
Now imagine this. Had they been given only 5 runs, Stokes would have been off-strike with 4 needed in 2 balls. A lot could have changed right? Why wasn't this looked at more closely then? As the captain of your team shouldn't one try harder to make sure things aren't being unfair for your team? Had Williamson spent a few more minutes and asked the officials to view the footage carefully and see how many runs should be awarded the World Cup might have been New Zealand's.
This is where the debate of aggression vs calmness comes in. Imagine a captain like Virat Kohli or Brendon McCullum. Would they accept such a thing calmly? Wouldn't they have argued to get what their team deserved? In my opinion they surely would have. They would fight and argue but never settle for less than what their team actually deserved.
Being aggressive is often criticised as being rude or arrogant but aggression is a very important aspect of the game. It can bring the best out of people and shows how badly they want to achieve something. Had Williamson been a bit more aggressive or at least tried to find out what's happening, the result of the final might have been different.
Looking back in history, the captains who are remembered today as being the best in their time are mostly the ones who were aggressive and a lot of them were characterised as arrogant in their times. So is there anything wrong in arrogance?
Take the example of Steve Waugh, Ricky Ponting and even Sourav Ganguly. They were criticised by their opponents and often by people of their own country as well. But they left a legacy which fans now cherish. They are known as great characters who built a team and inspired the coming generations as well.
Even I am a fan of Williamson and have no doubts on his captaincy abilities but such instances just force me to think. What is actually better aggression or calmness? There is a certain MS Dhoni who showed the world how one can be equally effective even though he was one of the calmest people the cricket world has seen.
~Written by Tanvir Sahni