'Hume bhi batao raaz?' – Ishant Sharma asks Mohammed Shami's secret behind his success
Both Shami and Ishant have tormented the opposition batsmen in recent times.
Updated - Nov 17, 2019 5:25 pm
670 Views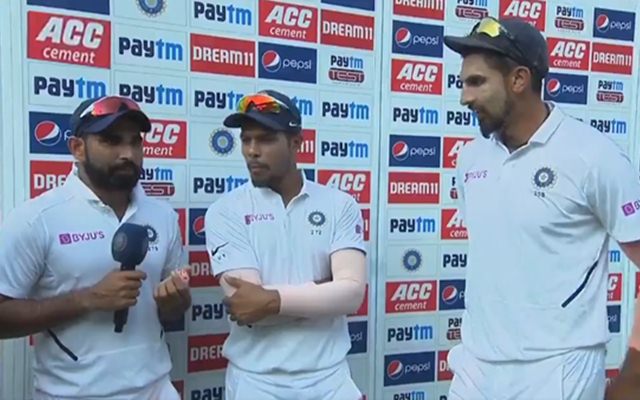 Follow us on Telegram
India's pace-bowling trio of Ishant Sharma, Mohammed Shami and Umesh Yadav got together for a light conversation moments after decimating Bangladesh in the first Test match in Indore inside three days. The three spoke during an interview with presenter Harsha Bhogle about the camaraderie they share off the field and even got engaged in some funny exchanges.
Ishant, who has been the battery's spearhead and is the most experienced of all the India fast bowlers at the moment with 283 wickets in 95 Tests, said there is nothing as "senior" in the team and that every player backs the other. "I am not treated as a senior, we don't have anything like that. We always enjoy each other's success, speak with each other and try and share our plans," said Ishant Sharma, who has taken 16 wickets in the last five matches with not a so memorable outing against South Africa.
In the match against the Tigers, too, the 31-year-old lanky pacer managed to get only three wickets, even one less than Umesh. And he asked Shami, who took seven in the game, as to how he manages to strike so early. "I've been asking him, 'What are you doing that whenever you hit the pads, it's out. If someone pulls, it's caught. We're tired of just beating the bat' So tell us Shami, we are tired with just beating the bat!" Ishant said jokingly.
Shami now is most successful bowler in second innings
To this, Shami tried to give a serious reply that he has been given freedom by captain Virat Kohli and coach Ravi Shastri. But Ishant was still not convinced and he said even they have such freedom but yet the results are different.
Shami then replied, saying: "And the biggest thing is that I'm bowling with you guys. I don't even need to think too much. I just need to focus on the one thing you need to do in Tests: put it in a good area. I do just that and you guys make it much easier for me, so there's no pressure on me."
Ishant was still not content with the answer. "We have asked you something else, you're giving a different answer [laughter]! We are saying that the areas you're bowling in, we're bowling in them too. But when you hit the pads it's in line with the stumps, and when we hit the pads, it's missing the stumps. Why does this happen?", he asked.
And it was then when the 29-year-old Shami gave back something funny. He said it is "biryani ka kamaal" (it's because of eating biryani). And then he reverted to the technical issues saying he is reaping the harvest of maintaining a good line and length.
Ahead of the pink ball Test, Ishant Sharma seeks advice from Mohammed Shami. Funny banter between the two 😀

Full interview 👉👉https://t.co/hq1gKfhVIP pic.twitter.com/BcbzOmVKlm

— BCCI (@BCCI) November 16, 2019
Follow us on Google News