'I am extremely sorry' – Shakib Al Hasan issues public apology after uprooting stumps in anger in DPL game
Shakib lost his temper not once but twice.
Updated - Jun 11, 2021 5:59 pm
9.9K Views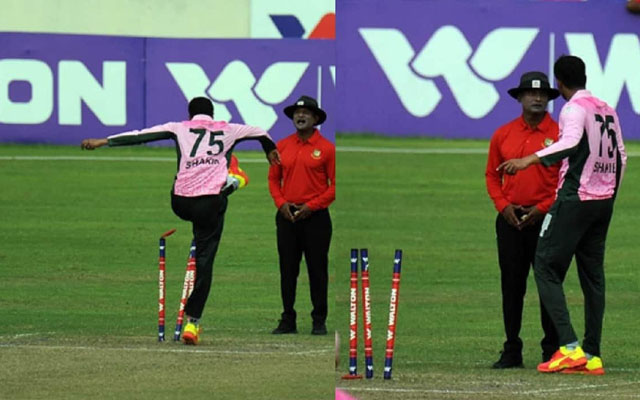 Bangladesh superstar Shakib Al Hasan has been hogging the limelight for his poor behaviour in the ongoing Dhaka Premier League. On Friday, he was seen expressing his anger towards the on-field umpire, not once but twice. He also argued with the opposition team's coach Khaled Mahmud who is also the Bangladesh Cricket Board (BCB) director.
However, after the incident went viral on social media, Shakib has apologised for his behaviour and accepts that he ruined the match for the fans. He admitted that an experienced player like him should've controlled his emotions irrespective of the situation and has apologised to all the officials involved and the teams as well.
"Dear fans and followers, I am extremely sorry for losing my temper and ruining the match for everyone and especially those who are watching from home. An experienced player like me should not have reacted that way but sometimes against all odds it happens unfortunately.
"I apologise to the teams, management, tournament officials and organizing committee for this human error. Hopefully, I won't be repeating this again in future. Thanks and love you all," he wrote in his statement given on social media.
Here's the statement:
What had actually happened?
On Friday, Shakib Al Hasan, leading the Mohammedan Sporting Club, lost his temper on the umpire twice during the game against Abahani Limited. The first time, he got very close to the umpire and fiercely kicked the stumps after he didn't give the lbw appeal in the cricketer's favour. The batsman in question on this occasion was Mushfiqur Rahim, another veteran in Bangladesh cricket.
On the second occasion, he was seen uprooting the stumps with his own hands after umpires decided to stop the match due to rain with only one ball left to complete the 6th over which could've completed the game. On both occasions, Shakib Al Hasan was seen having animated discussions with the umpire and it didn't stop here.
The left-hander then was seen arguing with the Abahani Limited coach Khaled Mahmud who is also the BCB Director. The board is yet to release a statement on the matter and it remains to be seen if the veteran cricketer Shakib has to face any punishment for his behaviour.