I am glad I missed Test series in India: Quinton de Kock
Updated - Apr 14, 2016 12:20 pm
71 Views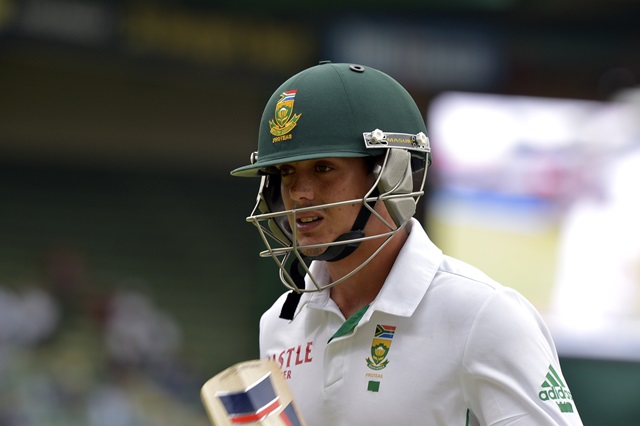 Follow us on Telegram
Quinton de Kock has been a terrific performer for South Africa ever since transitioning successfully from the U-19 stage to the senior level. Like many other South African cricketers, Quinton dabbled between cricket and another sport as a child.
Starting out as a Baseball player (this shows why he loves to hammer the ball so much) and then switching to cricket successfully, Quinton de Kock, who is currently playing for the Delhi Daredevils in the IPL spoke about various topics in a candid chat with TOI.
The 23-year-old wicketkeeper-batsman talked about why he feels like shifting to India. The young man says that the quantity of cricket in the country makes him feel like moving to the country.
"Yeah. I feel like moving in here." he says. "Over the last one year, I have played like seven months here in India, which is more cricket here than at home. But it's not too bad as we get to improve our game and prepare for tours."
Quinton, who is trying to shed his limited overs tag, has growing as a player at the Test level. However, the left-hander was missing from the squad in the Test series against India in India  last year where South Africa had a terrible time.  When asked about how he would have fared in those challenging situation, he gave a straightforward and honest answer,  "I am actually one of the worst players of spin. There's no way that Hashim, AB, JP and Faf are not better players of spin. They got out to spinners. So what? If they get out to seamers, you can't say that they can't get the seamers away."
"Just because they couldn't do it in India doesn't mean they can't get on top of spinners. It's like Indian spinners are only good bowling in their country. Once they come out of their country, they don't perform as well. It's the same thing."
Quinton, in fact, says that he was happy that he missed that series.
"After seeing the kind of pitches that were prepared, I was actually quite happy I wasn't playing. I think they saved my career! To be honest, some of those pitches looked ridiculous. I am glad I missed those Tests".
He  also spoke about his senior teammate and batting wizard AB de Villiers. AB de Villiers is a batsman with insane abilities. He sweeps and scoops the fast bowlers and can also grind the opposition for two days at a stretch just to save a Test match. Quinton says that though he admires him, he won't try to be like him as he is a unique talent with lots of experience behind him.
"I wouldn't do either of these things. I don't try playing those shots. That's his talent and there's experience behind that talent. I don't think I could have done what he did in a couple of Tests here. I would have played a couple slog sweeps, for sure. I don't try the other things he does. If you are brave enough to put your chin on the line while playing those laps, then good for you."
The 23-year old also gave his opinion about Daryll Cullinan's recent comment. Cullinan recently said the South African cricket system is placing too much emphasis on T20 cricket.
"I don't think it's true. If you look at it, SA is the only country that doesn't have a major T20 league of its own. There's the Big Bash, IPL, BPL, CPL and even Pakistan have come up with PSL. We just have the Ram Slam. "
"Playing just the Ram Slam doesn't help much. I don't think Daryll knows what he is talking about. Just because we are playing in league all around the world, it doesn't mean we just want to be T20 players."
He also feels that there is hype for small things in South Africa.
"Cricket is still not our No. 1 sport. We are now at No. 3 maybe with rugby, soccer and golf doing so well. The four years I have played for Protea, there has been hype about small things."
The young cricketer will be one of the senior players in the side which is full of young names. But, the Proteas batsman says that he doesn't get the same treatment when playing in the South African outfit full of much senior cricketers.
"There are a lot of younger guys than me. Mind you, I am just 23. I am senior here because I have some experience. But I know when I go back to the Proteas, I am still a baby. I am not senior there yet with all those many big names there. But I am sure I'll start taking up that role soon."
Follow us on Google News