I didn't bowl the no-ball deliberately, that's not my nature: Kieron Pollard
Kieron Pollard was accused of bowling a deliberate no-ball in the CPL match.
Updated - Sep 9, 2017 8:34 pm
3.2K Views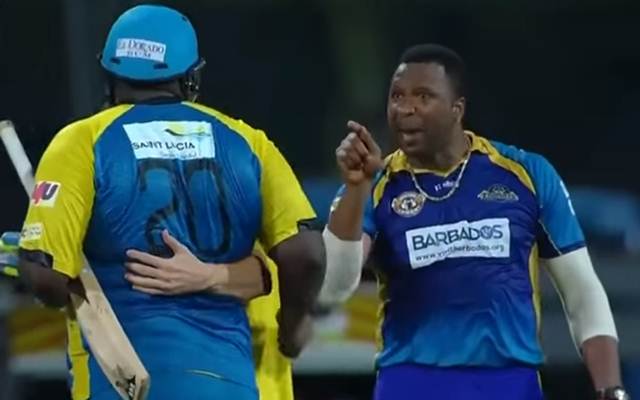 West Indies all-rounder Kieron Pollard is one of the most explosive batsman in the T20 format. He recently denied that he intentionally bowled a no-ball to stop Elvis Lewis from making a record-breaking hundred in the CPL 2017. Lewis remained unbeaten on 97 from 31 balls, as St.Kitts and Patriots won the match by 10 wickets over Barbados Tridents.
Patriots needed 1 run to win, with Lewis on strike. Lewis needed a boundary to become the fastest century maker in the history of CPL and second fastest overall. But Lewis couldn't crack the hundred as Pollard overstepped the line by a  big margin, which resulted in a no-ball.
Pollard defends himself
Pollard, the Tridents captain, said he overstepped as he was trying to put extra effort into a short ball, his best delivery option. "When I took up that ball in that last delivery, I had one thing in my mind: trying to bowl a delivery, my best delivery – what has been working for me throughout the tournament – a short delivery to see if he [will] have a waft at it, to see if it can go up in the air and we can get him out," Pollard told Sports Max.
"Although we would have lost the game, I was still thinking of getting him out, and using my strength, what I had been doing. Unfortunately, [the] stride went for that extra, I stepped over the mark and I think that has been the talking point, of what actually happened, the actual no-ball itself.
"It wasn't intentional, nothing was intentional at any point in time. I acknowledge that we have lost the game but I am not going to just go there and bowl a ball just for him to hit it for six or four, for him to score hundred in that sense. That's not my nature, and I don't think any sportsman will just do something to that effect." He added.