I didn't miss the game as much as I thought I might: Virat Kohli
The 31-year-old hasn't played any form of cricket since India's tour of New Zealand back in February.
Updated - Sep 1, 2020 11:36 am
1.2K Views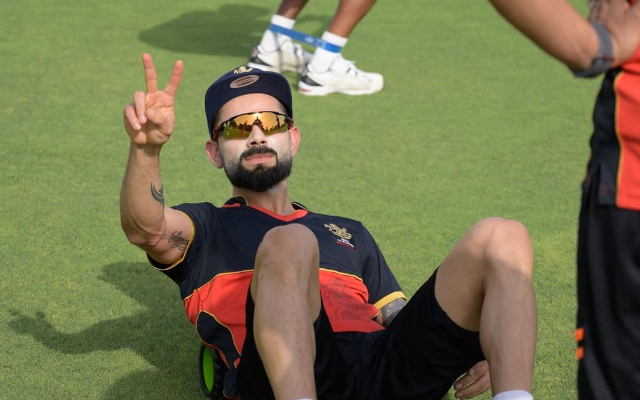 Follow us on Google News
Virat Kohli and Royal Challengers Bangalore (RCB), after their quarantine period, hit the field for practising ahead of the 2020 Indian Premier League (IPL). The 31-year-old was away from the sport for over six months after failing miserably in the two-Test series against New Zealand back in February. But despite being out for long, Virat didn't feel much change in his game.
The COVID-19 pandemic made sure that cricketing events around the globe came to a halt. Indian cricket stopped after their ODI series against South Africa had to be called off following a washed-off match in Dharamsala. Kohli found things tough initially, but realised the importance of other aspects of life as the lockdowns kept extending in the country.
Things started opening up and getting together: Virat Kohli
The Delhi-born Kohli put forth his opinions while speaking to The Bold Diaries on the RCB channel. "Things were okay. I didn't miss the game as much as I thought I might. Maybe because I'd been going on for 9-10 years before that and this was the only break I was ever going to get that long. It was a revelation for me as well.
"It was surprising that my focus was not solely on how I'm missing the game all the time and you know just carrying on with life, doing other things and understanding that this is just a part of life," Kohli mentioned.
The IPL was set to start on March 29, but had to be postponed for an indefinite time period due to the pandemic. However, the BCCI found out a window and also changed its venue from India to the United Arab Emirates (UAE). Kohli also admitted that he had butterflies in his stomach when he was going for practice after the long break.
"Couple of months [ago] you couldn't imagine you'd have IPL firstly. Then things started opening up and things started getting together and then we saw other tournaments taking place. So got a bit of confidence from that. Now when we had our practice session yesterday is the time I realised how long it has been. When I was heading to the practice session, I felt nervous, I felt a bit jittery …"
From the personal front, during the lockdown phase, Kohli spent some quality time with Anushka Sharma. The power couple also kept in touch with the fans through their respective social media handles. A few days earlier, Kohli also gave the news of Anushka being pregnant.
Follow us on Telegram