'I didn't want to add fuel to fire' – Angad Bedi hits back at Gautam Gambhir for naming Arvind Vashisht in the World XI team
Gambhir had even accused Bedi of nepotism earlier this year.
Updated - Dec 28, 2019 2:29 pm
89.1K Views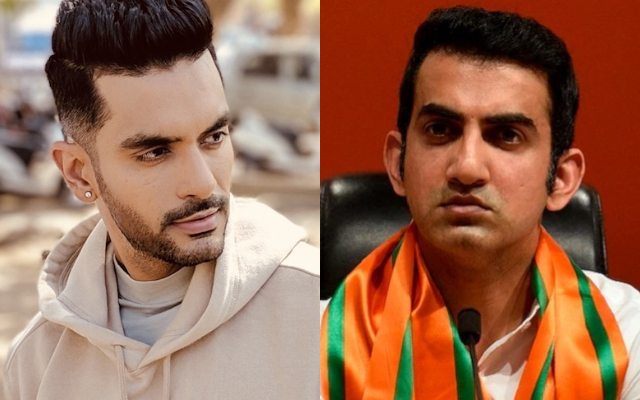 The year is about to end and everybody including writers, journalists, former cricketers, and fans are all busy in making and debating about who they think is the best possible playing XI of the past twelve months. Joining the bandwagon, former Indian cricketer and two-time World Champion Gautam Gambhir named his World XI on Twitter recently.
While the list had usual suspects in the form of India's captain and champion batsman Virat Kohli, the best all-rounder of the year 2019 Ben Stokes among many others. However, what surprised everyone was when they stumbled on the name- Arvind Vashisht, which is the name of the character played by Angad Bedi in the series called 'Inside Edge'.
Seeing Arvind Vashisht's name in the World XI team raised a lot of eyebrows considering the controversial relationship that Gambhir had had in the past with Angad Bedi's father and legendary Indian spinner Bishan Singh Bedi.
In August, when Navdeep Saini was selected in the Indian team, Gambhir had teed into the former captain-Bedi- who, according to the former Indian opener-turned-MP, didn't want Saini to play for Delhi since he was an 'outsider'. Gambhir had even accused Bedi of nepotism.
Angad Bedi responds to Gautam Gambhir's old tweet about Bishan Singh Bedi
Angad Bedi had been silent thus far, but after seeing his name in the World XI list, the junior Bedi couldn't hold himself back and lambasted Gambhir for his 'hypocrisy'. Bedi said, "I didn't say anything back then because I didn't want to add fuel to fire. But now, he mentions Arvind Vashishth in the World XI, when he didn't think Angad Bedi was deserving of playing Under-16 cricket."
I don't know if he realises that Angad and Arvind are the same people. If he feels I am talented enough [to make it to his list], I am grateful. I thank him for changing his mind," said Angad, who has played for the Delhi Under-16 and Under-19 teams as quoted by Mid-Day.
Bedi also termed Gambhir's tweets for father as 'distasteful'. He added, "I value my father's contribution to Indian cricket. He was captain for four years [1975-76 and 1978-79] and has led his life with integrity. When we were growing up, our coaches taught us that we don't need to [necessarily] agree with our seniors, but we don't need to disrespect them either."
😂 @BishanBedi talking about "stooping to conquer" 😂,man who was pushing his undeserving son for selection or @ChetanChauhanCr bent on getting his nephew in DDCA team. Shame. Also reproducing Bedi's comments on Navdeep in a protest letter of 2013. Read onhttps://t.co/hhwMDViipZ

— Gautam Gambhir (@GautamGambhir) August 4, 2019