'I don't think a cautious approach ever pays off' – Virat Kohli's message to Cheteshwar Pujara & Co.
India lost the Wellington Test by 10 wickets against New Zealand.
Updated - Feb 25, 2020 2:36 pm
51.6K Views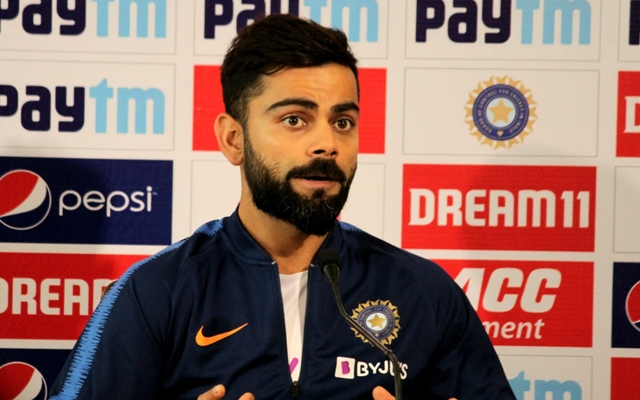 Follow us on Google News
India suffered an annihilating defeat against New Zealand by 10 wickets in Wellington. In sports, winning and losing are a part and parcel of the game but one thing that was not acceptable was the margin by which Men in Blue lost the game. Now, Virat Kohli, the Indian skipper has come out with a message for the Indian batsmen ahead of the 2nd and final game of the Test series.
The visitors' batters never looked in a frame of mind to score runs fluently. It is known that in the longer format of the game the players usually take enough time to get settled down on the wicket but that doesn't mean the batsman has to start the blockathon and only wait for bad balls to score.
The same happened in Wellington where Cheteshwar Pujara acquired a defensive approach against the lethal bowling attack of New Zealand. He scored 11 runs off 42 balls in the 1st innings followed by turtle speed knock of 11 runs off 81 balls. On the other hand, Hanuma Vihari also looked the same as he mustered 15 runs off 79 balls in the second innings of the match.
This approach is not welcomed by the Indian skipper Virat Kohli, who said that being very cautious restricts a player from playing his own strokes. Sometimes it is difficult to even score singles and the batsmen start doubting his ability, who then waits for a good delivery that will dismiss them.
Virat Kohli has a message for his batsmen
Kohli added that if he sees a green wicket then he tries to play counter-attacking strokes in order to lead his team from the front. There is no harm if you failed over the same but at least as a player, you tried your best. While playing away from the home cautious approach will never help a player is excelling.
He also added technical discussions are useful until it doesn't get onto your mind. If a player has a clear mindset then every condition looks easy. As a batting unit, they failed in the previous game to perform but they are quite capable of achieving anything in the longer format.
"I don't think to be cautious or wary will help because you might stop playing your shots. You will start doubting that if even singles are not coming in those conditions, what will you do? You are just waiting for when that good ball will come and you will be dismissed.
"(If) you have that acceptance that it's ok if you are out to a good ball, at least I don't think that way," said Kohli, making his stand clear on what he thought about the approach of some players. "If I see a situation, if it is a green wicket, then I try to play counter-attacking cricket so that I can take the team forward."
"But I don't think a cautious approach ever pays off, especially away from home. If we start thinking too much about the conditions, then you won't be able to focus on your batting. When you are not playing in your (home) conditions, the game becomes more mental. We can sometimes get into too many technical discussions," Virat Kohli said as quoted by Hindustan Times.
Watch: Irfan Pathan's interview post his retirement
Follow us on Telegram