I have always been a big fan of the way Virat Kohli plays the game: AB de Villiers
The former South African captain also delved on his relationship with Kohli
Updated - Nov 6, 2019 12:51 pm
2.3K Views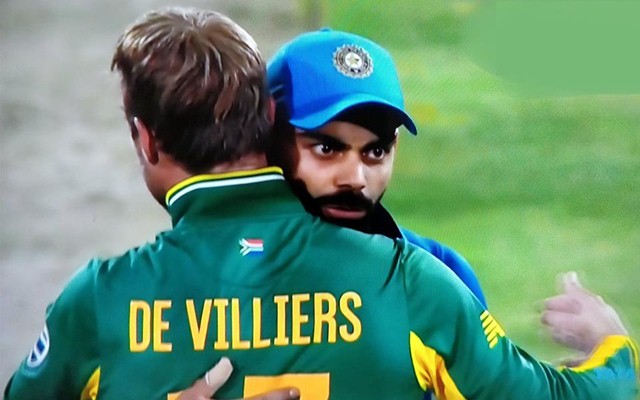 One of the most prominent things- among many others- that the Indian Premier League has done over the years is that it has helped reduce the animosity between cricketers hailing from different countries. It has sort of amalgamated or united cricketers coming from different cultures, ethnic groups as well as countries; something which you didn't see in the pre-IPL days.
With the cricketers sharing the dressing room for the better of two months every year, relationships are established which transcend boundaries in every which way possible. Over the years, we have seen a lot of cricketers from different countries develop a sense of camaraderie that would have been unheard of in the days gone by. While it has not diluted the competitiveness on the field- and it shouldn't- the overall animosity has been hugely reduced.
Virat walks the talk as a leader, says AB de Villiers
And, now in an interview with Times Now, AB de Villiers opened up about Virat Kohli on a plethora of things. De Villiers, who has been playing alongside Virat for RCB since 2011 said that the 31-year-old is fortunate to have the kind of pool of talent that he has at his disposal while also hailing Kohli as a leader of men. According to AB, Virat not only talks but also walks the talk, an ability that differentiates him from others.
"He is very fortunate to have a lot of talent there – players who have a lot of experience, who have played a lot of IPL games under the most intense pressure before. He is blessed with that but also he is a lead from the front kind of a leader. And that's always good from a captain when a guy goes out there and scores the big hundreds. He just doesn't only talk but walks the talk as well. That's the kind of a leader Virat is. He leads from the front with his body language," De Villiers told Times Now.
The former South African captain also delved on his relationship with Kohli while also mentioning that he congratulated the Indian captain for his 3-0 series win against the Proteas while also taking a cheeky dig when he mentioned that it wouldn't happen (again) when he visits the rainbow nation in the future.
"We are very good friends. We always stay in touch and we get along really well. I have always been a big fan of the way he plays the game. After the SA series, I didn't have a choice but to congratulate him as he scored so many runs and had a fantastic series, unfortunately against us. That's the last I spoke to him. Then I warned him as well that when he is going to next come here, it's not going to happen again (laughs)," AB added.
[interaction id="5dbaf2992b2176300d62fe31″]