'I have gone mad looking for it' – Jofra Archer loses World Cup 2019 medal after shifting his house
Archer returned from Barbados to the United Kingdom last month.
Updated - Apr 26, 2020 10:41 am
885 Views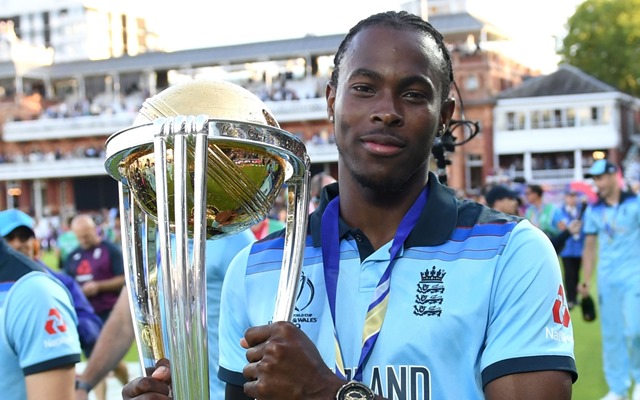 It was one of the most dramatic finishes in the history of the game. The World Cup 2019 final still thrills cricket fans and it was one man for England who had pulled it through in the toughest of times, Jofra Archer. He was given the responsibility to deliver in the super over and he didn't let New Zealand go past England's score. It was the major triumph in the 50-over mega event for the home side and no one would want to forget that moment.
But Jofra Archer is fretting over the medal he received after winning the final. The pace bowler recently shifted to a new house and in the process, is not finding the winners' medal of the World Cup 2019. Such souvenir's are very close to the heart for the players and it must have been a special for Archer too as he had made his international debut just before the competition.
Speaking to BBC Radio 5, the 25-year-old expressed his frustration over not finding the medal after moving into the new home. Rather the cricketer has been looking for it for over a week now and wants to keep searching until he finds it out.
I will keep my eyes out for it, says Jofra Archer
"I had it hanging off a portrait someone did for me and sent to me, I had my medal hanging on that. I moved flat and the picture is on the new wall but there's no medal. I turned the house upside down for about a week but I still haven't managed to find it. I know it should be in the house so I will keep my eyes out for it but I've gone mad looking for it already," Jofra Archer said.
Moreover, he also admitted that he has spent most of the time searching his medal during the Coronavirus forced lockdown in the United Kingdom. However, Archer, like many, has nothing much to do during the quarantine days. "There's nothing else to do in isolation. It's all hands on deck," the pace bowler added. With cricket in England suspended until July 1, the long wait continues for him and the cricket team.