'I love speaking in Bangla' – Mustafizur Rahman when asked if he would like to learn English
The 24-year-old says he will continue speaking in the language which his mother taught him.
Updated - Mar 19, 2020 11:24 am
252 Views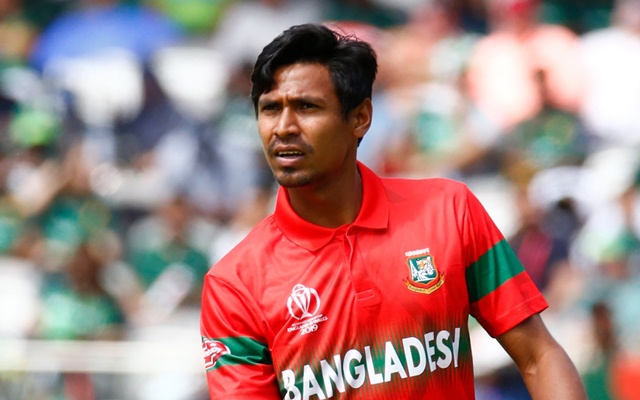 Speaking in mother-tongue is something every human being relishes and Bangladesh left-arm pacer Mustafizur Rahman is no different. Recently, the bowler, who is also known as 'the Fizz', said he loves speaking in Bangla while interacting with the media. The cricketer, who hails from Satkhira, is always seen speaking in Bengali or taking help of a teammate who can converse in English during press conferences or post-match presentations.
On Wednesday, Mustafizur spoke to reporters after his practice session for Prime Bank, the team he plays for in the Dhaka Premier League, at the BCB Academy Ground. He was asked whether he would like to learn English, the language in which generally the cricketing fraternity converses and players from the sub-continent try to communicate in despite lacking fluency.
The 24-year-old, in response, said he doesn't have a plan to change his medium of speaking that he has learnt from his mother. "I would like to stay the way I always have been. I don't know what other players do. I like this. I love speaking in Bangla; my mother taught me this," he said.
'Fizz' has lost his sharpness over the years
Mustafizur Rahman, who burst onto the international scene in 2015 and produced a number of match-winning performances, lost his pace over the years. His short-lived rivalry with India captain Virat Kohli has also made a lot of headlines. The bowler needs to work hard to regain the past form but one thing he will never change is the language of conversation.
The injury-prone player has featured in 13 Tests, 58 ODIs and 41 T20Is since making debut five years ago and has picked 195 wickets in all. He has five five-wicket hauls in ODIs and one in T20Is but is yet to do the same in Tests. He last featured in the recent limited-overs series against Zimbabwe at home in which he took seven wickets in two ODIs and as many T20Is.
Recently, the BCB axed Mustafizur along with Mahmudullah from the list of contracted players for Tests. The duo, now seen as limited-over specialists, will now feature only in ODIs and T20Is.