'I thought it was the drinks from last night' – Danish Sait after Virat Kohli posts two pictures of himself on Instagram
Kohli reminisced his 12-year journey in his 1000th Instagram post.
Updated - Jul 25, 2020 12:54 pm
3.1K Views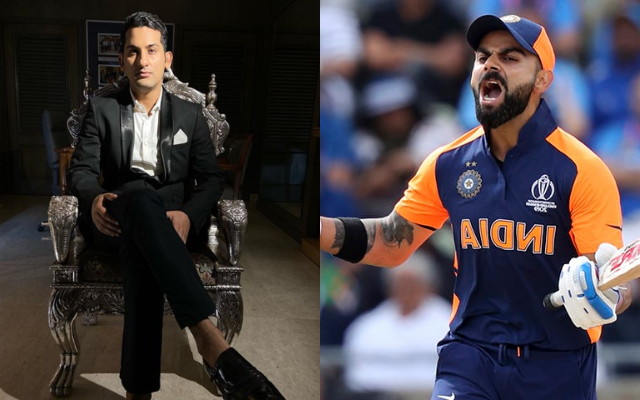 India skipper Virat Kohli is one of the best batsmen in international cricket thanks to his amazing consistency across all the formats of the game. His rise playing for India has been inspirational for upcoming generations and Kohli will soon complete 12 years at the highest level. He made his India debut on August 18, 2008 and has scored close to 22,000 runs so far in his career.
On Thursday, the 31-year-old got nostalgic and posted an interesting picture on his official Instagram account. The image had a Kohli from 2008 fist-bumping a Kohli from 2020 as the Indian captain reminisced his journey in international cricket. He also thanked his fans and followers for all the love and support and also stated that he has learnt a lot during this period.
Apparently, it was also Virat Kohli's 1000th post on Instagram as he wrote, "2008-2020. With many learnings along the way, I'm grateful for your love and support you guys have shown me. Here's to the #1000thPost."
Danish Sait's hilarious post
The comment box flooded soon after he posted even as the likes of his wife Anushka Sharma and Harbhajan Singh among many others congratulated him. The stand-up comedian and TV host Danish Sait also dropped a hilarious comment which left many in splits. Danish, apart from his professional work, is also known for his cracking show for the Royal Challengers Bangalore (RCB) which is also by Virat Kohli.
Danish realised it after around a day that it was actually two Virat Kohlis in the picture and it wasn't due to his drinks. "Oh man, I thought it was the drinks from last night. Correct, it's 2 Virat's!" he wrote in his comment.
Virat Kohli, meanwhile, will be looking forward to return to the field as the IPL is happening in the UAE from September 19. India is also scheduled to tour Australia in December with the BCCI most likely to arrange the camp for the team in Ahmedabad. It will be interesting to see how the RCB captain fares on his return after not playing for more than four months.