I was one of the first to greet Sourav Ganguly when he became BCCI president: Ravi Shastri
Shastri and Ganguly recently met at the Eden Gardens.
Updated - Nov 26, 2019 5:34 pm
350 Views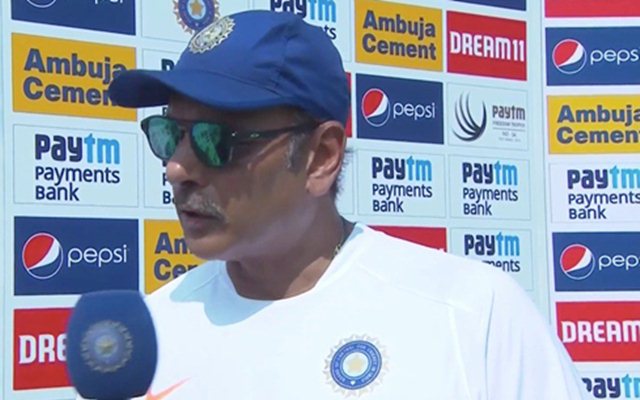 Follow us on Telegram
When former India captain Sourav Ganguly took over as the president of the Board of Control for Cricket in India (BCCI), many were left guessing how the current head coach Ravi Shastri would react. The two former players do not share the best of terms and it became evident when Shastri failed to become the coach a few years ago and Anil Kumble went on to become.
Shastri had alleged that his candidature was given less significance and his target was primarily Ganguly who was in the Cricket Advisory Committee then that was taking the coach's interview.
Shastri said Ganguly's absence in the meeting when he was presenting his case over the medium was disrespectful and the latter lashed back at him saying if Shastri had thought that him not bagging the post was because of him, he was "living in a fool's world".
That was in the middle of 2016. More than three years since then, much water has flown down the Ganga and now the two former India captains are again closely positioned. While Shastri continues at the helm with a good track record, Ganguly now is the chief of the Indian cricket board. Did the two important post-holders have a good interaction?
Sourav Ganguly and Ravi Shastri recently met at Eden Gardens
The Indian team was recently at the Eden Gardens where a day-night Test match was organized against Bangladesh at Ganguly's initiative and the cricketing world was impressed that it saw a huge audience returning to see the long-format game. Ganguly and Shastri even shook hands on the occasion, much to the glee of the supporters and there Shastri said his former India colleague's going on to become the BCCI president was "fantastic".
"I think it is fantastic. I was one of the first to congratulate him when he became the president because I was delighted that more important than anything else BCCI was back in place to put Indian cricket where it belongs both on and off the field. And I was even more delighted that a cricketer should be at the helm at this important phase of Indian cricket," the 57-year-old was quoted as saying by Times Now.
"And Sourav having been a fabulous player and captain and been around as an administrator, him becoming the president adds a lot of value," Shastri said.
Follow us on Google News