ICC asks fans to 'player of the next decade'; Twitter picks Babar Azam
Babar was arguably Pakistan's standout batsman in 2019.
Updated - Dec 31, 2019 3:32 pm
22.3K Views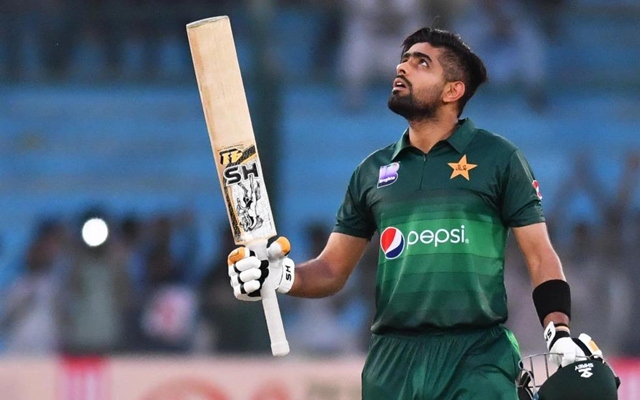 Babar Azam has come up the ranks for Pakistan at the highest level. The national team hasn't had the best of years in 2019 by any stretch of the imagination. The right-hander has arguably been the standout batter for his national side and has at times, waged lone battles. In the ODI format, Babar churned out 1,092 runs in 20 matches at an incredible average of 60.66.
During the World Cup, the Lahore, Punjab-born also churned out a century against New Zealand at the Edgbaston in Birmingham. Apart from that, he also got centuries versus England in Nottingham and Sri Lanka in Karachi. Pakistan couldn't qualify beyond the league stage in the World Cup, but Babar was lauded for his stupendous shows with the bat in hand.
Babar Azam shining across formats
In T20 cricket, Azam is currently ICC's highest-ranked batsman. In 2019, Pakistan had a torrid time even in the shortest format, despite being the top team. In 10 matches in 2019, the 25-year-old racked up 374 runs at an average of 41.55. He also notched four half-centuries with a top score of 90 against South Africa at the iconic New Wanderers Stadium in Johannesburg.
Babar has flourished to such an extent that he has been made the skipper in the shortest format. Even in Test cricket, Babar hasn't flattered to deceive by any means. In six matches in 2019, the pugnacious potential scored 616 runs at a jaw-dropping average of 68.44. In his last four matches, the right-hander had three centuries to his name.
In Australia, he got tons in Brisbane as well as in Adelaide. In the meantime, the International Cricket Council (ICC) had a question for the fans. The ICC asked the fans to name the player of the next decade. It should have been a tough choice for them since a number of cricketers have impressed.
The apex cricket board wrote, "Who do you think will be the player of the next decade? Go." The fans didn't have much of a doubt in naming Babar as the 'player of the next decade'.
Here's how fans are cheering Babar to dominate the next decade: –
Babar Azam inshallah he is the best player of next dacade pic.twitter.com/tovmVDHdve

— Hafiz Sakib Arain (@HafizSakibA) December 31, 2019
Babar Azam

— Zohaib Hassan (@zabi7474) December 31, 2019
The one an only babar Azam ❤

— Anum_Khan (@Anummahesar) December 31, 2019
👇👇👇👇 pic.twitter.com/RLetXxVX9c

— Aimen Malik03 ✨ (@AimenMalik03) December 31, 2019
Babar "Badshah" Azam⚘🌷⚘🌷 pic.twitter.com/ULBS2mZThx

— Moaaz Ali Joiya (@joiya_moaaz) December 31, 2019
Babar Azam 💚

— Mani 🇵🇰 (@ManiTweets14) December 31, 2019
Babar Azam Inshaallah! pic.twitter.com/OGCi0XnjDW

— Sameena E. (@SameenaERana) December 31, 2019
Babar Azam IA 😍💥💯

— W a s i f 🏏🔥 (@_cricketFreak) December 31, 2019
The Pakistani star batsman Babar Azam @babarazam258 will be the player of next decade Inshallah. pic.twitter.com/YhzcqWOhQm

— Dr.Zubair Mushwani 🇵🇰🇵🇰 (@zamushwani2018) December 31, 2019
Babar Azam was only 15 years old when the 2010s decade started (01st Jan 2010), started International cricket on 31st May 2015, 5 years into the decade. But ends the decade as highest ranked International batsman (T20I 1, ODI 3, Test 6), highest ranking average 3.33 @babarazam258

— Muhammad Zeeshan Awan (@IamZee02) December 31, 2019
Without a doubt BABAR AZAM?!🇵🇰

— Ali (@Ali66502019) December 31, 2019
King Babar pic.twitter.com/QMTeQ9VzTy

— W A K A S 🇵🇰🏏 (@icricketfreak) December 31, 2019
Inshallah babar Azam
Hit like if you agree pic.twitter.com/5wy7Kw6cI5

— Ammar Jutt (@000_jutt) December 31, 2019
INSHAALLAH Babar Azam ❤

— MAHD RAJPUT (@mahd_rajput1047) December 31, 2019