ICC Elite panel umpire Anil Chaudhary stranded in his village due to lockdown; climbs trees for mobile network
"The biggest problem is the network here. I can't talk to anyone or use the internet," he said.
Updated - Apr 10, 2020 3:49 pm
27.4K Views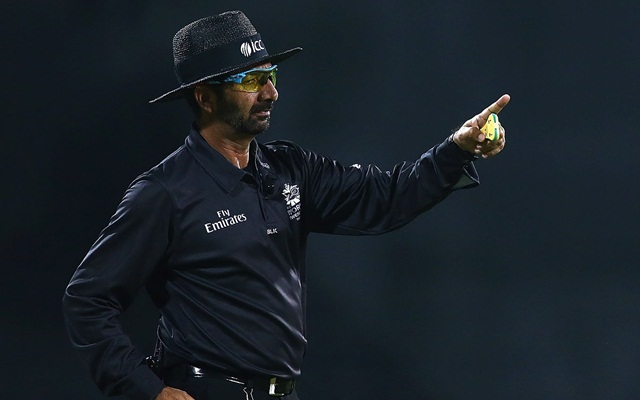 The ICC Elite panel umpire from India, Anil Chaudhary is left stranded in his village Dangrol in the Uttar Pradesh's Shamli district due to the ongoing 21-day lockdown. Rather he was supposed to officiate in the ODI series between India and South Africa last month before it was postponed with the Coronavirus spreading throughout the world.
After the series was called off, Anil Chaudhary travelled to his village with his two sons on March 16. His plan was to stay there for a week or so before returning. However, lockdown was announced on March 23 which suddenly disrupted all his plans and he was stuck in the village where people are struggling due to lack of proper mobile network for communication.
Rather, the Indian umpire stated that he climbs up trees to talk to anyone. Moroever, he also informed that he is not able to use internet during his stay in village as well. "I'm here with my two sons since March 16. I was visiting the village after quite some time so I planned to stay for a week but then the lockdown was announced and now I'm following the directives, while my mother and wife are in Delhi.
"The biggest problem is the network here. I can't talk to anyone or use the internet. To be able to do that I have to go outside the village, climb up a tree or go to the rooftop. Then also the network is not available all the time," he was quoted as saying by Economic Times.
No internet also affecting Anil Chaudhary's son's studies
Anil Chaudhary informed that he needs internet to access ICC's online programmes during this lockdown while also saying that one of his sons is not able to attend online classes of his college which is affecting his studies. The 55-year-old was surprised to witness the lack of network and internet in the village despite it being only 85 kms away from India's capital city.
"One of my son studies in the Hindu College, his classes are going on but he is unable to attend them. This network problem has been there for the past one year but because of the lockdown it is affecting studies. This village is only 85km away from Delhi," Anil Chaudhary added.