ICC World Cup 2015: INDIA VS PAKISTAN – Review and Preview of the clash of Titans
Updated - Jan 25, 2015 9:38 am
75 Views
The India vs Pakistan rivalry is the biggest rivalry in any form of cricket. It is due to the history between the two countries and the relationship of love and hate between the fans of the two countries. The matches are nothing short of battles with players at each other's throats and the fans supporting their nation to the full. This is visible from the fact that the tickets for the 2015 World Cup encounter was sold in less than 12 minutes and more than 20,000 Indian fans would be there at the Adelaide Oval to support the tricolour.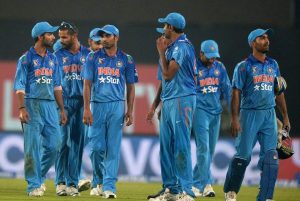 Follow us on Telegram
The rivalry has even surpassed the Ashes and now has become the big ticket event at the biggest stage of them all, the World Cup. Interestingly, India and Pakistan never met in the World cup until 1992 edition. There could have been a mega final in 1987, but both India and Pakistan lost to England and Australia respectively in the semis.
Many players get to make a name for themselves in these clashes. Moments are created that live until eternity. People remember you for that one thing you did during the India-Pakistan clash. And if the stage is the cricket World cup, the intensity multiplies ten folds.
Players are extra motivated in these clashes. And that has led to some brilliant innings, breath taking shots, great displays of bowling and overall, pure high voltage entertainment for the viewers. Since meeting for the first time in 1992 World cup held in Australia and New Zealand, India has never been defeated by Pakistan in World cup encounter and currently India is 5-0 up.
Let's have a view at those encounters in the World cup.
1992 World cup : Sydney Cricket Ground.
The very first meeting between the Asian giants and rivals in the World cup was not short of any drama. India won the toss and batted first. India went on to score 216 runs in 49 overs permitted in the allotted time. The highest scorer for India was the little master Sachin Tendulkar with 54 runs and Ajay Jadeja with 45 runs to their names. Mushtaq Ahmed took 3 for 59 in his 10 overs.
The Pakistani innings was not off to a great start, but opener Aamir Sohail made a brilliant 62 runs and along with veteran Javed Miandad who scored 40, was taking Pakistan closer to victory. But Tendulkar removed Sohail and Javagal Srinath's yorker shattered the stumps of Javed Miandad and Pakistan meekly folded up for 173 runs to lose the match by 43 runs.
Sachin Tendulkar was named the man of the match for his 54 runs and 1 wicket.
Fact: During the match, incensed with Indian stumper Kiran More's appealing, Javed Miandad out of nowhere started mocking More by jumping up and down in the air. This made the highlight of every news channel in those days and the image is one the most iconic images from the 1992 World cup.
Here is the Video:

1996 World Cup: Bangalore (Quarter-final)
India and Pakistan met in the 1996 World cup in the knockout stage of the tournament. The quarterfinal was held in the M.Chinnaswamy Stadium in Banglalore. The stadium was packed to its capacity and it erupted as Indian captain Mohd. Azharuddin won the toss and elected to bat first. India got off to a brisk start with Navjot Sidhu and Sachin Tendulkar scoring freely against a capable Pakistani attack.
Sidhu made a brilliant 93 off 115 balls before being dismissed by Mushtaq Ahmed. But the encore came in the Waqar Younis over in the death, where Ajay Jadeja hit 2 sixes and 2 fours to take 22 runs off the fast bowler. India made 57 runs in their last 4 overs thanks to Jadeja (45 off 25 balls) and made 287 runs after 50 overs.
Pakistan started off brilliantly with Aamir Sohail and Saeed Anwar scoring 84 runs in the first 10 overs. But a momentary loss of concentration cost Sohail his wicket and from then on, India kept chipping at the Pakistani team with regular wickets. The last effort came from veteran Javed Miandad who was playing his 6th World Cup and he scored 38 runs before being run out by Ajay Jadeja. This was his last international match.
India won the match by 39 runs and advanced to the Semi-finals. Navjot Singh Sidhu was named the man of the match for his 93 runs.
Fact: Aamir Sohail hit a boundary to point and then poked Venkatesh Prasad saying that he will hit the next ball towards the same area. Prasad uprooted his off stump the very next ball and gave him a rather colourful send off. A memorable 1996 World cup moment of all time.
Here is the Video:

1999 World Cup: Manchester
India and Pakistan had ceased any cricket ties due to the Kargil war in 1999. This meant that this encounter was truly an emotional one for both sides.
India batted first after winning the toss and limped their way to 227 runs in their 50 overs. Pakistan never let any batsman settle down apart from Rahul Dravid who scored 60 and Captain Mohammad Azharuddin who scored    59 runs.
Pakistan's chase was started with Saeed Anwar attacking the Indian bowlers. But Indians dismissed Shahid Afridi, Ijaz Ahmed, Saleem Malik cheaply before some resistance from Inzaman-ul-haq (41) and Moin Khan (34). Venkatesh Prasad took a World Cup best 5 for 27 to dismiss Pakistan for a meagre 182 runs and India won the match by 47 runs. Venkatesh Prasad was chosen Man of the match for his 5 wicket haul.
2003 World Cup: Centurion
Tempers were high because of some statements given by the Pakistani team members before the match started. Pakistan batted first and scored a good 273 runs for loss of 7 wickets thanks to a brilliant 101 by Saeed Anwar and able support from Younis Khan (32) and Rashid Latif (31). Ashish Nehra and Zaheer Khan took 2 wickets each.
Indian reply began with a bang with Virender Sehwag cutting Waqar Younis for a six and then Sachin Tendulkar hit what is perhaps the most famous shot of all World cups. He hit a 96mph ball from Shoaib Akhtar straight into the crowds over the point region. Sehwag and Tendulkar attacked Akhtar and he was taken off the attack after just one over conceding 22 runs.
Though Sehwag, Ganguly fell early, Sachin and Kaif kept the runs going until Kaif was dismissed for 35 and Shoaib returned to dismiss an injured Sahin Tendulkar 2 short of his hundred. Now India needed around 120 runs and Dravid and Yuvraj were at the crease. Pakistan built up the pressure, but both the batsmen kept scoring runs and eventually India registered their 4rd straight win over Pakistan in World cups by 6 wickets.
Sachin Tendulkar was named the Man of the match for his brilliant 98 runs.
2011 World Cup: Mohali (Semi-final)
This clash between India and Pakistan was not only high voltage, but also high pressure as it was the second semi-final of the 2011 World Cup. The winner would go on to meet Sri Lanka in the final at Mumbai.
MS Dhoni won the toss and chose to bat first on the fast Mohali pitch. India got off to a quick start thanks to Sehwag who scored 38 runs out of 48 scored in first 5 overs. After that Sachin Tendulkar tried to stitch partnerships with Gautam Gambhir and MS Dhoni, before getting out to Saeed Ajmal for 85 runs. Indian innings folded for 260 runs. Wahab Riaz took 5 wickets for 46 runs in a brilliant piece of swing bowling. He also dismissed the 2011 World Cup man of the tournament Yuvraj Singh for a first ball duck.
Pakistan's chase never got any momentum despite Mohammad Hafeez's 43 runs at the top as the Indian bowlers continued to chip away at the wickets. Dhoni's tight field settings didn't allow easy singles and the Pakistani batsmen got out trying to hit the big shots. Even a late surge from Misbha-ul-Haq (56) could not help Pakistan and he was the last wicket to fall. Pakistan fell short by 29 runs and India advanced to the finals of 2011 World cup and the rest as you know is history.
Sachin Tendulkar got the Man of the match for his 85 runs.
2015 World Cup: Adelaide
This match is supposed to be the most watched match in the World Cup history. The tickets for this match sold out in under 12 minutes and more than 20,000 Indian fans will be present in the ground to support their team.
The match is a huge one not only because it is an India Pakistan encounter, but it will also set the momentum for the rest of the World cup for both the teams. Captain MS Dhoni and Misbah-ul-Haq have enough on their plate already with India's poor performance in the on-going triseries and Saeed Ajmal's suspension due to a suspect action have dented their plans for the World cup.
Both teams went in for some surprises in Stuart Binny for India and Sohail Khan for Pakistan. Both teams have their shares of in-form players. Rohit Sharma, Suresh Raina for India and Misbah, Shezad and Younis for Pakistan.
Here are the World Cup squads of both the teams:
INDIA:
Ravichandran Ashwin, Stuart Binny, Shikhar Dhawan, MS Dhoni (capt & wk), Ravindra Jadeja, Virat Kohli, Bhuvneshwar Kumar, Akshar Patel, Ajinkya Rahane, Suresh Raina, Ambati Rayudu, Mohammed Shami, Ishant Sharma, Rohit Sharma, Umesh Yadav.
PAKISTAN:
Ahmed Shehzad, Ehsan Adil, Haris Sohail, Junaid Khan, Misbah-ul-Haq (capt), Mohammad Hafeez, Mohammad Irfan, Sarfraz Ahmed (wk), Shahid Afridi, Sohaib Maqsood, Sohail Khan, Umar Akmal, Wahab Riaz, Yasir Shah, Younus Khan.
So, we saw a recap of the 5 matches that India and Pakistan have played in the World cup against each other. Each and every encounter has been nothing less than a battle for not only the fans but the players as well.
If you do well in a India-Pakistan encounter, you become a hero for life. No one has forgotten the Javagal Srinath Yorker to Miandad in 1992, Jadeja's assault on Waqar and Aamir Sohail- Venkatesh Prasad dual in 1996 match. Anwar and Tendulkar's innings and Sachin-Sehwag's 2 sixes towards point region in 2003 World cup. All these are moments etched in every fan's memory and will be a part of World Cup history.
Now is the time for some stats:
Highest Total:
India : 276/4 World cup 2003
Pakistan: 273/7 World cup 2003
Highest score:
98 – Sachin Tendulkar 2003
101- Saeed Anwar 2003
Best Bowling:
5-27 Venkatesh Prasad 1999
5-46 Wahab Riaz 2011
Interestingly no Indian batsman has scored a 100 against Pakistan in any World cup matches, with Sachin Tendulkar's 98 being the highest. Pakistan's Saeed Anwar scored a beautiful 101 in the 2003 encounter.
Whereas, Venkatesh Prasad and Wahab Riaz took a 5 wicket haul each in 1999 and 2011 respectively.
Follow us on Google News